Warning over middle-class parents' alcohol habits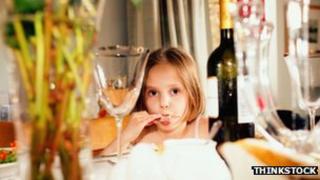 Too many middle-class parents are drinking excessively as a way of coping with the demands of family life, a report suggests.
The study for charity 4Children warns of a "silent epidemic" of alcohol misuse in British families.
It claims that two million parents drink alcohol daily, with the highest earners drinking the most.
The study claims parenting capacity can be hampered by habitual drinking.
The report, Over the Limit: The Truth about Families and Alcohol, suggested about a third of mothers and fathers drink more than their recommended units a week.
But just under two-thirds (62%) of the 575 British parents questioned as part of the report said that their drinking behaviour had no impact on their family life.
And one in five (19%) believed their alcohol consumption had a positive effect on their ability to parent.
The report said the households most likely to drink were the wealthiest - with almost four times as many families in the top-earning groups, drinking every day compared to the poorest.
It added: "The parents who consumed the highest quantities also tend to escape social stereotypes around alcoholism."
The arrival of children seems to have led more parents to drink more, with one in six increasing consumption after the birth of a baby.
The report, which was also based on in-depth research with family alcohol misuse services, said: "Though we assume the majority of these parents will not be collapsing drunk on the streets, or using class A drugs in doorways, we found the impact on children can still be profound."
'Occasionally visible'
It added: "Parenting capacity can be adversely affected, and quality interactions with the youngest children disrupted, by parents who merely drank socially, or finished a bottle of wine over dinner.
"4Children is concerned that too often this results from a profound lack of awareness amongst parents of the damage that hazardous drinking can do to their families."
It said the number of parents who drink to levels of excess that endanger the lives of themselves or their children are a minority.
But it added: "Much more frequently, parental alcohol abuse will be more manageable, only occasionally visible to the world outside the family, and do not result in any activities that could lead to the involvement of social workers, or child protection plans.
"The unpredictability of the behaviour of an intoxicated parent" seems to have a significant affect on children's development, it said. This is particularly the case when daily routines are disrupted.
It added that parents who do misuse alcohol or substances can display "ambivalence" towards their role as parents and are "frequently self-critical about their capabilities as parents".
Most mothers are advised about the impact of alcohol during pregnancy and breastfeeding, it said, but not on the impact it can have after babies are born.
4Children chief executive Anne Longfield called for a rethink on Britain's relationship with alcohol.
She said: "What to many parents feels like low level consumption still has the ability to negatively impact on their parenting.
"Drinking can seriously dent peoples judgement and the way they engage with their children. Even simple factors such as the increased likelihood for accidents is something that parents need to be aware of.
"This report shows how the potential for alcohol to have an impact is sometimes hidden because drinking is so socially acceptable - and yet addiction can strike at families of all classes."