GCSEs row: Legal action a step closer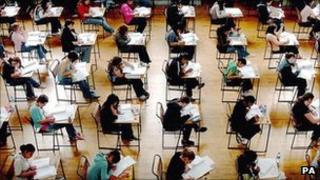 Legal action over this year's English GCSE grades has moved a step closer after a heads' union vowed not to let the matter rest.
The Association of School and College Leaders (ASCL) says England's exams regulator and two exam boards failed to take responsibility for the affair.
Changes to grade boundaries part-way through the year meant pupils with the same mark got different grades.
Ofqual pledged to "rigorously defend" its decision not to order regrading.
It was responding to a pre-action letter from an alliance of schools, councils and teaching associations threatening a judicial review against Ofqual and exam boards Edexcel and AQA.
'Very disappointed'
The letter set out the case for an unprecedented legal challenge over decisions by the boards to increase the marks required for a grade C in GCSE English between January and June.
Correspondence between Ofqual and the boards shows that the exam boards were under pressure from Ofqual to guard against grade inflation.
They also show that grade boundary changes were ordered by Ofqual just weeks before the results were given to pupils.
The alliance also proposed taking action against what it claims was a failure by Ofqual to address the situation.
An Ofqual spokesman said it had responded to the letter from the alliance saying it was "rigorously defending our decisions".
"Our work to understand why some schools' results differed significantly from their expectations is continuing and we will report again shortly," he added.
Brian Lightman, general secretary of the ASCL, said: "We are very disappointed that Ofqual and the awarding bodies refuse to take responsibility for their actions and to acknowledge that the way this year's exams were carried out meant that thousands of young people were treated unfairly.
"We will not let this rest. Ofqual says it has a duty to uphold standards, which is correct, but it should not do this at the expense of young people's futures.
"Our solicitors are looking over the response letters and we will be meeting soon with the other participants in the legal challenge to decide the best way forward."
A meeting between ASCL and the other parties in the alliance is expected to take place next Wednesday.
In its letter, the alliance argued that pupils who took GCSE English in June had been treated with "conspicuous unfairness".
'Graded generously'
It called for June's papers to be regraded in line with the January C-grade boundaries. If this did not happen, the alliance said it would seek leave to apply for a judicial review.
The row over the English exams broke out as GCSE results were published for pupils in England, Wales and Northern Ireland in August.
Ofqual conducted a brief inquiry, which concluded that January's GCSE English assessments were "graded generously", but the June boundaries were properly set and candidates' work properly graded.
The regulator insisted it would be inappropriate for either of the sets of exams to be regraded. Instead, students will be given an extra chance to resit the GCSE next month.
In Wales, Education Minister Leighton Andrews ordered the WJEC exam board to regrade Welsh students' English papers. As a result, last month nearly 2,400 pupils who took English with the exam board received better results.
In Northern Ireland, a review of English GCSE grading has been ordered.