Student reports to show work and play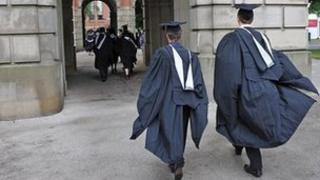 Universities are going to provide a much more detailed account of students' achievements, in changes expected to be adopted by most universities.
As well as degree grades, there will be individual marks and details of non-academic activity, such as sports.
These will be known as Higher Education Achievement Report (Hears).
Sir Robert Burgess, leading the project, said it would move beyond the "damaging obsession with 'first' and 'upper second' degree classifications".
This record will be held by the university in electronic form, which will provide employers with detailed information about students' achievements.
It can include marks from individual papers and course modules - and will provide a record of participation in other areas, such as sports, music, clubs and societies.
These will be included alongside the traditional degree classifications.
Permanent record
It responds to concerns that that too many students are now awarded upper seconds and first class degrees, making it hard for employers to distinguish between similarly-qualified job applicants.
This document will be updated during a student's time at university and the individual student will be able to talk to the university about what is included.
However, once the student has graduated, this record will not be able to be changed - making this a permanent digital footprint of their time at university.
The use of Hears is being endorsed by the representative bodies Universities UK and Guild HE, and it is expected that most institutions will use these documents, which can be up to six pages in length.
They have already been extensively piloted - with 45,000 Hears produced this year - and will continue to be rolled out, although their use will depend on the agreement of individual universities.
Prof Burgess, who is vice chancellor of Leicester University, said: "Universities have recognised for some time that a single degree classification cannot do justice to the range of skills, knowledge and experience students gain during their time in higher education.
"The Hear is designed to encourage a more sophisticated approach to recording students' achievements in the 21st Century."
Employers welcomed the prospect of a "far richer and broader range of information" on potential employees.
Carl Gilleard, chief executive of the Association of Graduate Recruiters, said three quarters of its members now used an upper second class degree - a 2:1 - as a cut-off point, excluding anyone below this grade.
"Yet it is widely accepted that the degree classification system is not fit for purpose. As a recruitment tool it is a blunt and inconsistent measure, and so it is a shame it has become so heavily relied upon and used by employers."
He said that the Hear would allow students to present a fuller picture of themselves.
"I have already noticed how it is acting as a catalyst for change, with students better able to articulate what they have to offer to employers and considering the skills they have developed more carefully."
Universities minister David Willetts said: "The achievement records are all about students. Giving students a full record of what they've achieved in higher education recognises them as partners in their education.
"As importantly, the achievement records give employers much richer information about the skills and expertise of students - helping them to make more informed choices about who to employ, rather than relying on degree class alone."