Blueprints for 'austerity' schools unveiled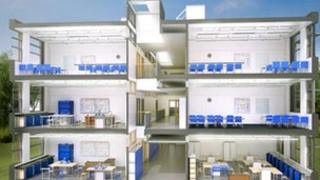 A trio of official blueprints for cut-price, prefabricated schools of the future have been unveiled by the government in England.
The designs, two for secondary and one for primary, cost a third less than those built in recent years, the government says.
Heads can opt out of the designs, but they cannot spend more than these cost.
Already dubbed "austerity schools", they will be smaller than those built under the last national building plan.
Building Schools for the Future was axed in summer 2010 by Education Secretary Michael Gove.
He said Labour's £5bn programme to replace all of England's secondary schools was wasteful and inefficient.
He was particularly critical of duplicated design costs as schools were built according to each local authority's specification.
The three new designs feature modular constructions, which can be built off site and added to, according to the number of classrooms needed.
They are not mandatory, but the Education Funding Agency spokesman said they were the best possible designs for the money available. Secondaries come in at an average of £6m less than schools built under BSF.
And any schools spending more than the new statutory £1,113 per sq m would have to find the extra funds themselves.
Mike Green, director of capital at the Education Funding Agency (EFA), said: "These designs will ensure that new schools can be built to effective designs and specifications, be simple to maintain and energy efficient. And they can be built far faster than many have previously and for far less money.
"Ultimately they will enable as many schools as possible to receive investment from the funding available and deliver an excellent environment for the children and communities they serve."
The EFA insists the result will be a "bright and airy learning environment".
Pupil behaviour
They will also be smaller than those built under Labour - 15% smaller for secondaries and 5% smaller for primaries.
But Nusrat Faizullah, head of school building experts British Council for School Environments, said: "The key question remains - will these designs ensure new school buildings are fit for purpose? Buildings dictate how teachers teach and children learn.
"A shrinkage in space means less flexibility for those that use them, inhibiting innovation. Will these austerity schools prove to be value-for-money schools? Time will tell."
Space given to corridors, halls and canteens will shrink, prompting concerns about the impact on pupil behaviour.
Ms Faizullah added: "Wider corridors and large general use spaces help with circulation, limit bullying and create options for use by teachers, children and local communities.
"We also have concerns about disabled children, who are more likely to need room for aids and equipment."
General secretary of the Association of School and College Leaders Brian Lightman said: "It absolutely makes sense to have some standardisation in design, which should result in better value for money, so long as it is not made too rigid as this could be a false economy.
"Every school has different needs, and these will change over the next few years, so building designs must be flexible enough to meet local requirements and be future proof."
'Best use of space'
The Labour government's Building Schools for the Future (BSF) programme was scrapped in 2010 amid claims it was beset by overspending and delay.
The government says its standardised designs will save up to £6m per school compared with BSF.
It says the new designs were drawn up with the advice of environmental, architectural and teaching experts to address problems such as dark corridors, poor ventilation and inadequate classrooms and to make the very best use of space.
The were commissioned in response to last year's review into the funding of new school buildings led by Sebastian James of electrical retailer, DSG.