GCSE exam boards told grades 'could not rise' by watchdog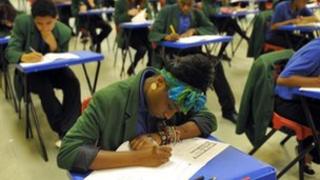 A senior official at Ofqual told exam boards they would be "very concerned" if the number of students gaining a GCSE grade C nationally this summer went up, the BBC has learnt.
The exams regulator also said it "could not accept any apparent grade inflation" in GCSE English.
Correspondence between Ofqual and exam boards was obtained by BBC Newsnight under a freedom of information request.
Ofqual denied result fixing and telling exam boards that pass rates must fall.
One exam board, Edexcel, had told Ofqual there was a "very serious mismatch" between its examiners' grade judgements and the percentage of passes Ofqual required.
The Welsh board WJEC was equally concerned and reported widespread unease among the boards.
Despite concerns, the regulator told exam boards in teleconferences on 13 July and 17 July it was adamant that grades could not rise.
Both Edexcel and WJEC objected, only agreeing to Ofqual's demands after the regulator threatened to order them to change their grades.
Ofqual told the BBC these comments had to be seen in the context of its role to prevent unjustified grade rises and to challenge exam boards.
'Statistical fix'
Contrary to Ofqual's predictions, GCSE grades actually fell.
The correspondence obtained by the BBC shows the regulator had expected them to be in line with previous years.
Ofqual recognised they and the exam boards would have to defend the controversial changes in grade boundary for the work marked in schools, known as controlled assessment.
In a briefing paper from 31 July one official wrote: "The rationale has to be based on awarders' qualitative judgements of work seen, not on a statistical fix".
He recognised this would be difficult for some boards.
On 22 August, the morning before GCSE results were published, Ofqual sent the exam boards its "lines" for the following day, or how it would explain the results in public.
The regulator's explanation for the fall in grades was that more than 20,000 students from selective and independent schools had moved to a different exam, the iGCSE.
Just eight minutes later a reply came in from the main exam board AQA, saying they would "probably have a different take on English outcomes".
"iGCSE may be part of it... but I don't think it explains it all by a long way," the board added.
Ofqual told the BBC that the drop was also explained by other changes in the student population.
According to Brian Lightman, of the Association of School and College Leaders, "a statistical fix" defines what was done.
He says it shows how an attempt was made to manipulate the results without reference to the students' work.
His organisation is part of a group taking legal action against Ofqual, claiming its actions were unfair.