Viewpoint: Sad Rochdale case of abuse is not rare, says ChildLine's Esther Rantzen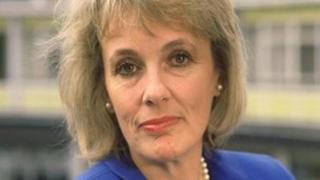 A report this week said social services and the police "missed opportunities" to stop the abuse of teenage girls in Rochdale - crimes for which nine men were eventually jailed. Here, the founder and president of ChildLine, Esther Rantzen, says sadly the case did not surprise her.
The grooming scandal in Rochdale has rightly shocked a nation. Children as young as 10 years old were targeted, drugged, raped, trapped in a cycle of abuse, and their cries for help were ignored.
Their abusers were convicted and imprisoned. But there is yet more horrific evidence to consider.
Yesterday, more reports of failings emerged, this time in a report by the local safeguarding children board.
Sadly, while I was deeply saddened by the case and the most recent revelations, I wasn't surprised.
At ChildLine we have received hundreds of phone calls and online contacts from children and young people who have also been groomed and trapped by sexual abusers, and they describe vividly to us their suffering.
Many of them have reached the point of seriously considering suicide, so deep is their despair and self-loathing. All describe how impossible it is for them to ask for help, so I fear that there are many more girls out there continuing to suffer this horrendous abuse.
The grooming of the girls by the Rochdale predators followed a pattern which has become familiar to us at ChildLine.
From what the children tell us, it usually begins with flattery; children who already suffer low self-esteem are told that they are beautiful, perhaps for the first time in their lives. They are given drink, and drugs, and then things are done to them that fill them with so much shame they feel utterly worthless and helpless.
Pressure to be silent
At this point even if they live at home with their family, they feel totally unable to tell their parents. And some of course do not, they are in care, and even more vulnerable. They are put under huge pressure to stay silent. They may be threatened physically, and fear retaliation by the men involved.
They often fear that even if they tell someone, they will not be believed and worst of all, they blame themselves for what has happened.
"I walked into this mess. It's my own fault," one child told us.
That is why ChildLine has such a unique role to play, we can lift this load from their shoulders by assuring children that the blame and responsibility and guilt rests entirely with the adult abusers. But we can only help the children who have the courage and the determination to contact us.
I fear that many don't. We need to reach out to these young people, and ensure that girls have the confidence to speak out. We need to make sure they know where to turn to and how to articulate what has happened.
But what's even more worrying is that a few did speak out, told the police and social workers and little happened, at least not straight away. So we need to be sure that when girls do speak out all services involved are ready to believe them and willing to act.
Hope
One depressing issue that comes up time and again in grooming cases is that the authorities often seem to believe that the girls were willing participants, that they were somehow giving their consent! This is simply a total misunderstanding of how grooming works. No-one can give consent to abuse and no-one under 16 can give consent to sex at all. It is always the full responsibility of the adult involved. These girls were not willing participants anymore than someone handling over their wallet at knifepoint is willingly doing so.
These girls were deliberately and systematically targeted and groomed. The authorities should have treated them as victims of child abuse right from the start.
But if young people don't want to walk into a police station or don't feel they can tell a trusted adult known to them, by contacting ChildLine they can still report the abuse, anonymously if they wish. They can still be helped and there are places for them to turn.
Through my work at ChildLine over the years I've come across some truly shocking cases of girls being forced to do things against their will but feeling powerless to act, and we have been able to restore their self-esteem and give them hope.
We've worked with them, kept in touch and helped them to report the abuse. Many of these girls would never have dared to speak to the police or other authorities and in cases like Rochdale, you can understand why.
Some we helped anonymously by passing on details so the perpetrators could be investigated without breaching confidentiality with the young people. Others we have persuaded to allow us to give their details to the police so they can be immediately protected.
And we've acted as a go-between with services so the girls are helped in speaking up and we can make sure that action is taken and keep the pressure up until it is.
But we can only do so much. We can only help a young person if they call us. But more importantly, all this effort will be pointless if we see a repeat of girls not being taken seriously or cases being dropped or taking years for any action to happen.
I'm pleased to see that the Children's Commissioner will be looking into the Rochdale case and other similar cases. I hope lessons are learnt. And I hope that next time, swift action is taken to protect these vulnerable young girls.
But the most important lesson of all is that we must, must, must listen to children.
ChildLine can be reached on Freephone 0800 1111 or through the charity's website.