New phonics test failed by four out of 10 pupils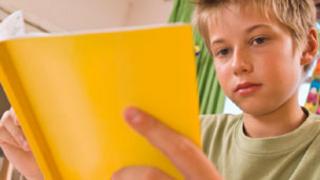 Fewer than six out of 10 pupils, 58%, passed the controversial new national phonics reading test in England, official statistics show.
The test checks six-year-olds' ability to read aloud a mixture of 40 real and made-up words, sounding them out using the phonics system.
Ministers said the check had identified pupils who needed further help in learning to read.
But teaching unions say it risks doing long-term damage to children's reading.
This is because it tests children's ability to decode words using a single method, phonics, rather than their ability to read itself.
'Waste of money'
Some teachers have said bright pupils who use different methods of reading are trying to read the made-up words as real ones and being marked down for it.
The official results show some 62% of girls passed the test compared with 54% of boys.
But only 44% of disadvantaged pupils, those eligible for free school meals, met the required standard of phonic decoding. This was 17 percentage points lower than all other pupils.
The phonics test is now taken by all pupils in Year 1 in English primary schools. The government introduced it to ensure schools were identifying pupils struggling with reading.
'Nonsense'
Education and Childcare Minister Elizabeth Truss said: "The reading check helps teachers identify those pupils who need extra help in learning to read.
"Many thousands of children will now receive the extra support they need to develop a love of reading."
But Mary Bousted, head of the Association of Teachers and Lecturers, said: "Phonics tests waste time and money telling teachers what they already know about children's reading ability, as our joint survey with the NAHT [National Association of Head Teachers] and NUT [National Union of Teachers] showed.
"If the government persists with phonics checks and its mistaken determination to make synthetic phonics the only method used to teach children to read, it risks doing long-term damage to children's reading."
But the Department for Education (DfE) highlights evidence from an independent evaluation saying 43% of schools were able to identify pupils with reading problems of which they had been unaware.
NUT head Christine Blower said the results reinforced the union's view that the top-down imposition of phonics across the board was the wrong approach.
"Children have different learning styles and develop at different ages and stages, a fact that the phonics check does not recognise.
"Decoding using synthetic phonics can be a useful tool for teachers, but it is nonsense for it to be the basis of a blanket test.
"Teachers need to be trusted and supported to develop a range of strategies for the teaching of reading. The aim is that all children learn to read for pleasure. A mechanistic approach will not guarantee that."
'Three Rs'
Russell Hobby, general secretary of the National of Association of Head Teachers, said there was considerable concern among members of the teaching profession about the phonics test.
"The department is well aware that teachers fear this test is not only a waste of time but can be very damaging indeed for young learners. Far from being a 'light touch' form of assessment, the phonics test caused days of disruption in classrooms across England and immense distress to young children labelled failures.
"It would be hard to find a school which does not already use phonics to help Key Stage 1 children learn to read. But they do so as part of a range of strategies designed to encourage and inspire young learners."
The DfE has also published the results of teacher assessments of seven-year-olds in reading, writing, maths and science.
Some 87% achieved the required national standard (Level 2) in reading, and 83% in writing - both up two percentage points on last year.
In maths 91% reached the required level, and in science 89% did so. Both sets of results are up one percentage point on 2011.