Top pupils 'dumb down' to get A* grades, say heads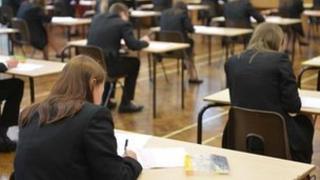 The exam system in England is suffering from "deterioration and decay", says a damning report from leading independent school head teachers.
Head teachers attacked huge variations in results and poor marking.
The most able pupils now have to "dumb down" their answers to get A* grades, said the leaders of the Headmasters' and Headmistresses' Conference.
Christopher Ray, the independent schools group's chairman, said the exam system was in a "truly shocking" state.
This summer has seen angry protests from head teachers over what they claimed were unfair changes to GCSE grade boundaries.
And the HMC - representing 250 of some of the most famous independent schools - has launched its own broadside against the exams system, in a report that says there are deep-rooted problems with unreliable, unfair and inaccurate marking.
'Building on sand'
The concerns of the HMC have now been submitted in a letter to Education Secretary Michael Gove.
The head teachers warned the education secretary that proposed changes to the structure of exams, such as introducing the English Baccalaureate (EBC), would be "building on sand" unless the underpinning quality of marking was improved.
Mr Ray, who is the high master of Manchester Grammar School, said the "problems go far deeper than this year's disastrous mishandling of the English language GCSE grades".
William Richardson, the HMC's general secretary, also criticised an over-rigid "tick box" approach for marking, where pupils had to be drilled to use the required "buzz words".
He said this could mean that the brightest pupils had to be taught to write answers that were below their own ability level to get the highest grades.
"Heads will say our most able pupils who don't use the buzz words don't get the top grades - but they produce the most novel and insightful answers. The markers can't accommodate the originality of their answers.
"And the most depressing thing for a teacher with a high calibre of pupil is to coach the most able pupils on dumbing down their answers to get an A*," he said.
Mr Richardson said that schools should be able to expect fair and accurate results for their pupils.
But he said evidence gathered by HMC schools showed that exam results, with similar pupils and teaching, could vary widely between different years - without anyone being able to give a plausible explanation for the differences.
"Tens of thousands of pupils across England are receiving questionable grades each year - it's not just this year."
'Monitoring markers'
While the overall national figures might show limited variations, he said that this conceals that many individual pupils are receiving incorrect and unfair grades.
"Teachers are disillusioned with this," he said.
There were also criticisms of the process for querying exam results - with claims of a "brick wall" and a reluctance to re-examine the pupil's script, rather than a review of whether the correct marking procedure had been followed.
The HMC leaders said the problems reflected the sheer scale of the exam "industry" - with 15 million scripts each year.
But they also questioned the system for monitoring the quality of marking.
There was also uncertainty about the proposal to have a single exam board for each subject - as Mr Ray said that at present the only option available to a school unhappy with marking was to change exam board.
Members of the HMC will be considering this further next week, when they gather in Belfast for their annual conference.
In response, a spokeswoman for the exam regulator Ofqual said: "We are ourselves looking closely at the quality of marking in the exam system.
"This includes gathering evidence on how exam boards recruit and select examiners and markers, the quality assurance mechanisms in place, the Enquiries About Results process, and how the significant demands placed on the system and constraints over time and availability of staff impact on marking.
"Exam boards have clear arrangements for training and monitoring markers. We want to make sure that all of these processes work as well as they can.
A spokesperson for Pearson, which owns the Edexcel board, said: "Pearson has invested significantly in the quality and efficiency of marking to ensure the accuracy of our results and this investment has almost entirely eliminated the issues created from, for example, clerical errors.
"This is demonstrated through the actual number of grade changes remaining the same year on year, despite the rise in the number of exam result enquiries."
John Dunford, chair of the Chartered Institute of Educational Assessors, said that the examinations workforce "needs to be professionalised".
A Department for Education spokesman said: "We have been clear that the exams system is in desperate need of a thorough overhaul.
"That's why we are consulting on EBCs, new, more rigorous exams for 16-year-olds, and why we are reforming A levels, with universities and employers responsible for their design.
"We agree with HMC that there are serious problems with marking and quality control."