'Rate your college online,' Ofsted urges students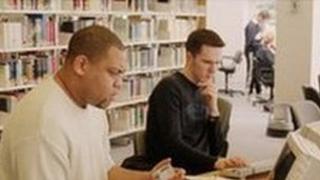 Further education students are being invited to rate their college on a new website run by the watchdog Ofsted.
In particular, they are being asked how well they think their course prepares them for work or further study.
Students can fill in the questionnaire whether there is an inspection under way or not, says the inspecting body.
Sally Hunt of the University and College Union said she was worried that this approach "merely invites criticism from the most disgruntled individuals".
Ofsted hopes the website, Learner View, will not only provide inspection teams with vital information but will also become a bank of knowledge for colleges and students.
'Crucial' views
Matthew Coffey, Ofsted's national director for learning and skills, urged everyone attending a college or work-based learning provider to fill out the questionnaire.
"It takes less than five minutes and could make a really positive difference," he added.
"Learners' views are crucial to Ofsted and underpin all the work we do."
Mr Coffey said the questionnaire: Asks whether learners would recommend their education provision, if lessons are taught well and if their programme or course is preparing them well enough for their chosen next steps. This information will inform inspectors' decision about whether courses are effective."
A spokeswoman for Ofsted explained that the emphasis on how well courses prepared students for employment and higher education stems from its Skills for Employment report, which suggested that some courses for job seekers were not effective.
That report found that many courses were not challenging enough and too many focused on achievement of qualifications rather than on training that lead to job specific skills.
But there were criticisms that the new website was not the best way of evaluating students' views about their courses. Jill Stokoe, policy advisor for further education with the Association of Teachers and Lecturers said: "We don't have a lot of trust in this system.
"It's fair enough that students are asked to evaluate their learning, they do that anyway, but given that Ofsted inspections can really affect a college you would have to wonder if malicious views could be expressed. What is Ofsted doing to make sure that any concerns expressed are legitimate?"
University and College Union general secretary, Sally Hunt, warned: "Properly organised surveys seeking students' views are a useful tool and have consistently indicated high levels of satisfaction. It is important to get the full picture."
Joy Mercer, director of policy at the Association of Colleges, said: "Most colleges already have their own robust systems in place to capture the student experience throughout the year and invest a lot of time in ensuring the student voice is heard and, in some colleges, involving students in curriculum development. Ofsted could use this data for a broader view of the learner's voice."