Pupils divided by GCSE grade boundaries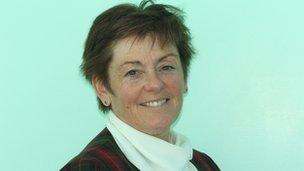 As teaching unions formally announce they are seeking a judicial review over Ofqual's refusal to order a regrade of controversial English GCSE exams, one head teacher tells how the problem has divided pupils in her town.
I am Jan Hatherell, head teacher of Hardenhuish School, a large comprehensive school in Chippenham, Wiltshire, judged outstanding at its last inspection and one of the first converter academies
This is my 24th year at the school and people say if you cut me I bleed the school's colours - green and gold.
In my town there are three secondary schools, one of which is on the same site as my own school.
And at the moment there are young people, neighbours and friends of my pupils, walking around the town with different grades for the same standard of work.
This is not because they are any better or any worse but because their work was submitted in a different order at different schools.
And if they have missed out on an all-important C-grade, it could mean they lose access to further study in a college or sixth form.
This cannot be fair or right. Here's how it happened.
Edexcel's English language GCSE is a modular course, completed over two years, with three parts completed in any order as decided by the individual schools.
The school's English department decided its pupils would complete the first controlled assessment, worth 20% of the mark, in June 2011 at the end of Year 10.
The examination element, worth 40% of the mark, was undertaken in January 2012.
The final controlled assessment (coursework under exam conditions) element, worth 40%, was completed for submission in June 2012
It was changes in the way this component was graded partway through the year that have led to all the controversy.
Put simply, anyone submitting the coursework in June 2011 or January 2012 required 55 marks out of 96 to achieve the C grade.
But those pupils, including ours, completing the exact same controlled assessment tasks and submitting them for grading in June 2012 were required to achieve 64 in order to achieve the same C grade. Previously 63 marks out of 96 had been the B grade standard.
The "reason" for this is that England's exams regulator, Ofqual, had identified that too many pupils were passing English.
It is important to realise that it was not the standard of work that has been considered by Ofqual but purely the numbers of pupils passing.
The leaked letters from Edexcel confirmed that all marking of pupils' work has been carried out with parity and equity and that it believed its original grading was correct.
However, Ofqual demanded they move their grade boundary so that a piece of work worthy of a grade C in June 2012 had to achieve a mark of 64 rather than the 55 it had been previously throughout this two-year period.
A mark of 64 means that many of the criteria at the B grade standard have to be met, particularly difficult for pupils with special educational needs, or those for whom English is not their first language.
Therefore pupils undertaking this component in June ended up at a huge disadvantage compared to those who had completed the course in a different order.
GCSEs are criterion-referenced, which means that there are descriptors which tell teachers, employers, further education colleges and everyone else what they can expect C-grade candidates to be able to do.
Hardenhuish has identified 21 pupils affected by this controversy.
We have no recourse to challenge these results because the moderators report that the marking of the final element was fine.
However, our relative performance within the qualification is interesting.
Some 73% of our pupils achieved C or above in the first controlled assessment, 78% achieved C or above in the examination and only 63% achieved the new C or above standard in the third element. Have the pupils changed in their abilities?
How do you pick up colleagues who are devastated at the results, reflecting on the lack of reward for the huge efforts they had made throughout the year on the pupils' behalf?
How do you look in the face of pupils whose life chances have been so severely affected by a decision taken to submit work in a particular order?
And always it is those young people that concern me most.
I came into this profession to do my best to improve the outcomes for young people, to maximise their choices for higher or further education and employment.
We have a plan to try to help those who wanted to continue in our sixth form but didn't make the entry requirements because of this issue and will work with them to ensure they have every chance to get their English GCSE in the resits.
But what of those who have lost their college places or offers of apprenticeships. What of them?
I have never before been disappointed to be part of the education system but I am now. I would like all pupils to look as happy as Tom (pictured above) on results day, getting the results they deserve.
Particularly galling when it would have been so easy to praise the education system for brilliant results, well-used financial resources including the pupil premium and outstanding teacher effort.