GCSE exam changes to be announced by Michael Gove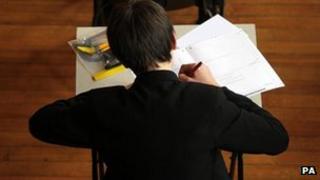 Details of the new exam that will replace GCSEs in England will be unveiled on Monday, it has emerged.
The new single exam qualification will be introduced in 2015 with the first students sitting the tests in 2017.
Monday's announcement comes after disagreements within the coalition over the planned changes were settled. It was originally scheduled for Tuesday.
Meanwhile, the Welsh government has said it will not rush into a decision about the future of GCSEs in Wales.
Welsh ministers are instead waiting to hear the findings of a review which is due in November.
However, the Education Minister for Wales, Leighton Andrews, said in June that Wales would not return to O-level-style exams.
In England, Labour has said it supports more rigorous exams, but only if they do not act as a cap on aspiration.
Education Secretary Michael Gove wants to replace GCSEs with tougher exams as he believes pupils in England have been slipping behind high-achieving nations such as Finland and Singapore.
An end to the modules and continual assessment which are a key component of GCSE exams has already been announced.
Monday's briefing will also confirm that Mr Gove has dropped plans for a two-tier exam system - with more academically-able students taking an O-level type exam and the rest taking an easier test.
That proposal was opposed by Deputy Prime Minister Nick Clegg, a disagreement that is now understood to have been resolved.
Mr Clegg and the education secretary will present the new exam together on Monday, and Mr Gove is expected to make a statement to parliament in the afternoon.
Biggest change
The move would be the biggest change in the exam system in a generation.
GCSEs were introduced in the late 1980s, to replace the dual system of O-levels and CSEs, with the first GCSE exams taken in 1988.
Pass rates have gone up every year except for this one, drawing claims that they were getting progressively easier.
The move comes amid controversy over this year's GCSE exams in English and whether they were too harshly graded.
This weekend examiners in Wales are regrading English papers taken under the WJEC examining board, after Welsh Education Minister Leighton Andrews ordered a review of results.
Mr Gove attacked that decision, saying it would "undermine confidence" in the value of the qualifications obtained by the students involved.
'Breadth of knowledge'
Shadow education secretary Stephen Twigg said it was wrong to be thinking about changing the system while the row over this year's grades continued.
He said: "Politicians should not set an artificial limit on the number of top grades, rather the best work should be rewarded.
"New exams should ensure that young people are prepared for the world of work and the jobs of the future. However, it is not clear how this new system will ensure a breadth of knowledge and skills and that pupils continue studying English and maths until age 18.
"There has been no consultation on these plans, rather they have been drawn up in secret and leaked to select media outlets."
The Welsh government is consulting on whether new qualifications for 14 to 16-year-olds should replace GCSEs or whether Wales should follow what happens in England.
In Scotland, pupils take Standard Grades, Highers and Advanced Highers rather than GCSEs and A-levels.
Pupils in Northern Ireland take GCSEs; there are no planned changes.