Science GCSE exam grades face parent challenge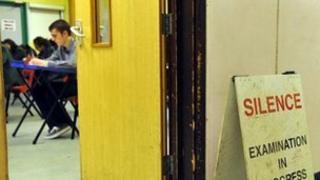 GCSE grade boundaries in some science exams were changed part-way through the year, exam board figures show.
Year 10 pupils who sat AQA board chemistry and biology modules in January needed up to 11 more marks to achieve an a A* grade than those who sat the same modules in June.
AQA said grade boundaries varied according to a paper's difficulty.
The news follows calls for a regrading of English GCSE, where grade boundaries were raised between January and June.
Less than 1% of AQA biology candidates achieved an A* in January's module exams, but more than 10% got the highest grade in June. In chemistry the figures were 2% in January but almost 12% in June.
The pupils affected were the first to take new tougher syllabuses in chemistry, biology and physics GCSEs introduced last September.
These qualifications are similar to previous GCSEs in that they are modular - but they are also designed to be more rigorous than previous versions.
Schools can decide whether to enter their pupils for module exams in January or June and the results count towards the final grade in year 11.
'Established feature'
A spokeswoman for AQA said: "The level of difficulty of exam papers can vary from one exam series to the next, so grade boundaries can vary depending on the demands of the assessment.
"As a result, grade boundaries vary between exam series, this is an established feature of the system and the variances are often greater when a qualification is new.
"There were differences between the numbers of candidates getting top grades in the January and June science units.
"This is because the candidates varied in ability at the same time as the exams varied in difficulty.
"So in biology and chemistry, the grade A boundaries were lower in June than in January and more students achieved a grade A."
But some parents are unconvinced by this argument. Andy Copas, whose daughter took her year 10 exams in January, said : "Do they really think that in biology only one in 100 students in January were capable of an A* but in June 10 in 100 were capable of A*? And the same for the other subjects? The reason why there are more A*'s in June is because the grade boundaries were lower."
Mr Copas called for the modules to be regraded and added that at his daughter's school most students who re-sat the exams in June improved their grade.
"Same student, same ability, different outcome. It has to be the grade boundaries," he said.
Leeds head teacher John Townsley, a former board member of exams regulator Ofqual, said: "This dad has a got it absolutely right. It appears to be the mirror image of what happened in GCSE English. The awarding of higher grades in the early part of the year has been highly prudent, not to say mean spirited."
"If the marking in June had continued at the January, level there would have been a dramatic reduction in the number of high grades for that year. It appears that they significantly altered the grade boundary to ensure that the final results were not out of place with what happened in previous years.
"This approach significantly disadvantaged pupils who took the exams in January and significantly advantaged those who took the exams in June."
A spokesman for Ofqual said: "We are satisfied that AQA took the available statistical and candidate performance evidence into account when setting grade boundaries in January, and equally satisfied that they applied all due processes to arrive at appropriate grade boundaries in June.
"Variation on grade boundaries and the results seen in schools does not indicate improper practice on the part of the exam board. It reflects the differences in the papers and the performance of the students taking each unit.
"The GCSE science qualification was new, and was designed to be more challenging than the previous version. Therefore, Ofqual did not apply the 'comparable outcomes' approach in this case, but we closely monitored the standards being set by senior examiners."
Christine Blower of the National Union of Teachers commented: "Parents, carers, pupils and schools deserve to be treated fairly. It is obvious that there are serious issues at the very heart of the system. There urgently needs to be an independent inquiry into this matter now and for those examinations which have been affected by political tampering to be regraded."