Exams for top athletes to help after sporting careers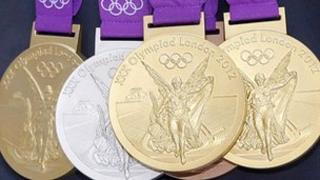 Olympic athletes can end up with medals and memories - but no qualifications for a future career, warned former athletes at London's Olympic Park.
"You can only ride for so long on your medals. Athletes can find it very hard to integrate after sports careers," said sprinter Frank Fredericks.
He was speaking at the launch of an International Baccalaureate (IB) qualification designed for athletes.
This will be flexible enough to be shaped around training schedules.
The qualifications are aimed at creating an Olympic legacy of an educational variety - addressing the concern that young athletes focus so much on sport that they miss out on exams and qualifications.
Finishing line
In particular, this IB qualification, used by some schools as an alternative to A-levels, is intended to be flexible enough to be studied around the disruptions of training and sports events.
Mr Fredericks, who won Olympic medals in 1992 and 1996, said that all too often athletes found themselves ill-equipped for life after sport.
"Your athletics career might finish at 30, but then the rest of your life starts," said Mr Fredericks, who is now a member of the International Olympic Committee.
"If a company wants to hire someone, they expect qualifications and a cv," said Mr Fredericks, who was born in Namibia, but went to study and train at a US university.
Katrina Webb, an Australian former athlete and International Paralympic Committee Ambassador, also spoke of the importance of athletes ensuring that they have a good enough education to "keep their options open" after retiring from sport.
Ms Webb, who won medals at three Paralympic Games, says it is an all too common problem for athletes to find themselves caught without the skills needed to make the transition into work.
They need to have something to prepare them for when their athletic achievements start to fade and "when the invitations stop".
"I've seen it time and time again, when athletes get injured or they finish their careers.
"They have wonderful memories, they get to keep their medals. But they don't get a certificate for all those hours spent on the track."
The project being launched at the Olympic Park in east London is intended to provide elite athletes with a post-16 international qualification which can be studied flexibly over three or four years.
This partnership between the IB and the World Academy of Sport, will provide a range of subjects from the IB Diploma programme, but taught in a way that is flexible enough to work around travel and training.
The World Academy of Sport is an organisation which works with sports federations to deliver educational programmes for athletes.