MPs to investigate GCSE dispute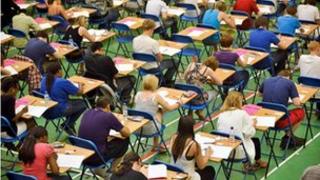 The dispute over GCSE English grades is going to be scrutinised by MPs.
The House of Commons Education Select Committee will take evidence from the Education Secretary Michael Gove, Ofqual head Glenys Stacey and head teachers' leaders.
There were angry claims by head teachers about changes to grade boundaries between exams in January and the summer.
Witnesses will give evidence to the committee next week.
"As the independent regulator, Ofqual is accountable to Parliament through my committee," said committee chairman, Graham Stuart.
Mr Stuart says he is "keen to hear from head teachers on this important topic" before hearing from the education secretary.
Lower grades
As such, Brian Lightman and Russell Hobby, leaders of two head teachers' unions, will be accompanied by serving head teachers when they give evidence.
The committee will examine the dispute over claims of the shifting of grade boundaries - with heads angered that pupils were given a grade lower than expected.
This was particularly contentious for pupils who achieved a D rather than a C - as this could have prevented them from taking up an A-level course or continuing into sixth form.
On Wednesday, the National Union of Teachers warned of a conflict between requiring schools to continue improving their grades, while at the same time expecting exam boards not to allow a continuous rise in grades.
The NUT, which met Ofqual to discuss the GCSE grading controversy, described this as an "inherent contradiction".
There had been demands from head teachers for a regrading of English exam papers - so that the summer papers would be treated in the same way as those taken in January.
This was rejected by Ofqual, but instead the watchdog proposed that pupils could resit the exam in November - a response that was condemned by heads and teachers' unions.
Answering questions in the House of Commons earlier this week, the education secretary had said that it would be inappropriate for him to intervene in such disputes.
But there are plans for a substantial overhaul of GCSEs expected to be announced this autumn.