MPs challenge London Metropolitan University overseas ban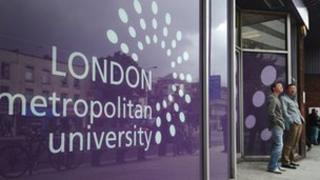 There have been calls from MPs for a rethink on the removal of existing overseas students from London Metropolitan University.
Jeremy Corbyn called on the immigration minister to allow overseas students already studying at the university to complete their degrees.
There was a "duty of care" to students entering the final year of their degree courses, said Mark Field.
But Immigration Minister Damian Green said he would "enforce the rules".
Mr Corbyn warned MPs that the decision had created an "appalling image" among international students which would damage the reputation of the UK's universities.
And he warned that the loss of income from overseas students "throws into jeopardy the future of the university".
Last week, London Metropolitan University became the first university in the UK to be stripped of the right to sponsor overseas students.
As well as preventing the university from recruiting new overseas students, it will also mean that about 2,600 existing overseas students will have to leave and find an alternative place.
Facing questions on the decision in the House of Commons, Mr Green said that there would be a task force providing advice and support for such displaced students.
But he emphasised the necessity to implement the immigration rules - telling MPs that the university had "significant systemic problems" in its recruitment of overseas students.
'Pack their bags'
The UK Border Agency had found students at the university without any right to remain in the UK, some without adequate English language skills and claimed that the university was failing to monitor the attendance of overseas students.
Mr Green also highlighted that the 60 days allowed to students to find an alternative course, before they had to leave the country, would not begin until formal notification had been issued.
The minister told MPs that such letters would not be sent until next month.
But with the start of term only a few weeks away, Mr Green was accused of disrupting legitimate overseas students at the most difficult time for them.
Shadow Immigration Minister Chris Bryant challenged the validity of telling fee-paying overseas students to "pack their bags".
Malcolm Gillies, the university's vice chancellor, last week accused the UKBA of "rewriting its own guidelines".
The university could still mount a legal challenge to the UKBA's ruling.
The National Union of Students has expressed its anger at the problems for overseas students at the university and warned of a "potentially catastrophic" threat to the international appeal of the UK's higher education sector.