London Metropolitan University students 'have until December'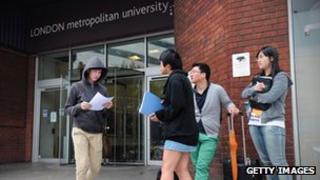 Some 2,600 foreign students affected by the London Metropolitan University (LMU) visa ban have been given until at least 1 December to find a new course.
The UK Border Agency says it will write to students after 1 October and "will ensure you have 60 days" to make a new student application or leave the UK.
On Thursday, the UKBA revoked LMU's licence to authorise non-EU visas. Ministers said it was failing to monitor student attendance.
LMU said it would challenge the claims.
'Systemic failings'
In Home Office guidance issued to foreign students on Friday, the UKBA said: "You do not need to do anything immediately. We will write to you after 1 October.
"We will ensure that you have 60 days to make a new student application or to arrange to leave the UK. This 60 days will start from the date we write to you."
It also said affected students currently outside the UK could return to the country to make new arrangements.
The UKBA's decision has been criticised by the National Union of Students (NUS) and Universities UK for damaging Britain's reputation as a top-class destination for the best international students.
On Thursday, the government had said it wanted to assess how many students would be successfully reallocated to alternative institutions before the UKBA sent out the 60-day notices.
It said a task force had been set up to help affected students and provide advice via an LMU helpline on 020 7133 4141.
'Rewriting' guidelines
The UKBA said London Metropolitan University had "failed to address serious and systemic failings" identified six months ago.
It said many foreign students at the university had no right to be in the UK.
Professor Malcolm Gillies, the university's vice chancellor, described the claims made against the institution as "not particularly cogent" and said it would be disputing them.
"I would go so far as to say that UKBA has been rewriting its own guidelines on this issue and this is something which should cause concern to all universities in the UK," he said.
Although there have been other suspensions, no other UK university has been fully stripped of its ability to recruit overseas students.