Collapsed free school projects 'wasted at least £2.3m'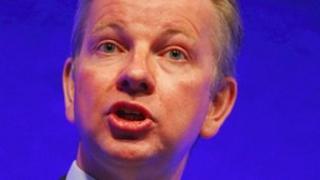 Education Secretary Michael Gove has been asked to come clean on how much money has been spent on collapsed free schools projects in England.
Shadow Education Secretary Stephen Twigg says at least £2.3m was spent on three projects alone, two of which were abandoned and one which is half empty.
He claims the Department for Education is yet to give details on a further three projects which have foundered.
A DfE spokesman said the figures were exaggerated.
Mr Twigg has written to England's education secretary asking how many of the 79 free schools due to open in September this year will do so.
'Lack of transparency'
He has also asked much money has been spent on free school projects that have been abandoned.
He suggests the true figure spent on such schemes could be much higher because of what he calls a "lack of transparency" over the way they are being funded.
Mr Twigg said: "Now more than ever it is critical that taxpayers' money is spent wisely.
"This kind of waste just shows how incompetent and out of touch Michael Gove is.
"By pursuing pet projects, rather than setting up schools where they are needed, millions of pounds that could be spent on improving education are being poured down the drain."
He added: "The Prime Minister once wrote that his government would usher in a 'new age of transparency'. I hope that you will uphold this principle."
'Popular with parents'
Labour's letter comes after the plug was pulled on the One in a Million Free School in Bradford just eight days before it was due to open. Some £213,000 was spent on the project.
And £2m has been allocated to the Beccles Free School in Suffolk for 68 pupils. The school has space for 162 pupils and the area is said to have 10,000 spare secondary school places.
And he highlights three other school projects; the Chorley Career and Sixth Form Academy, the Rotherham Central Free School in Yorkshire and the Newham Free Academy, which are not now going ahead.
However, the Department for Education dismissed claims the money is being wasted, pointing out that the Beccles Free School would be opening as planned this September with 68 pupils.
It added that the One in a Million Free School may still open.
"The truth is Free Schools are opening more quickly and have been delivered more cheaply than previous schemes," a DfE spokesman said.
"Free Schools are also proving overwhelmingly popular with parents - the vast majority of those opened in 2011 are already full."
They added: "We will never gamble with the future of our children and make no apologies for setting high standards.
"We would never allow a free school to open which didn't satisfy the needs of the local community and meet our strict criteria."
The first of this new breed of semi-independent state-funded schools - a total of 24 - opened last September.
A further 79 were due to open this September.