When is a wildcat really a wildcat?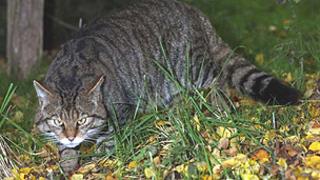 With claims big cats are stalking the countryside, researchers are developing a DNA test to identify Scotland's pure-bred wildcats.
There have been questions whether sightings of "big cats" might be wildcats or feral domestic cats.
But researchers at the University of Chester want to find a gene test to distinguish wildcats from hybrids cross-bred with domestic cats.
The study wants to protect the pure-bred wildcats from extinction.
Geneticists at the university want to find a DNA test to define whether a cat is a pure-bred wildcat, which can be up to 4ft (1.22m) long.
'The last stand'
Senior lecturer in biology, Paul O'Donoghue, believes there might be fewer than 100 Scottish wildcats surviving in the wild - with their future threatened by inter-breeding with runaway domestic cats.
"This is the last stand of a bit of wilderness," said Dr O'Donoghue.
The Scottish wildcat was now much rarer than the black rhino, he said.
Sightings of these animals, much bigger and stockier than domestic cats, were becoming less frequent - and a breeding programme was urgently needed to prevent them from completely disappearing, Dr O'Donoghue added.
Dr O'Donoghue has been working with the Royal Zoological Society of Scotland to try to establish how many pure wildcats still exist, either in captivity or the wild.
The DNA samples used to identify a "true" wildcat include a Victorian specimen kept in the British Museum - providing a sample with 63,000 genetic markers.
Dr O'Donoghue says that these 19th Century wildcats show the size and power of this species - saying that they were as different from a domestic cat as a wolf from a dog.
There have been repeated claims of sightings of "big cats" in the UK - with summer headlines made this week by claims a lion had been spotted in Essex.
Stephen Harris, professor of environmental sciences at Bristol University, suggested that rather than escaped big cats or wildcats, the creatures being spotted might be domestic cats that have gone feral.
Prof Harris told BBC Radio 4's Today programme feral cats could grow to be "surprisingly large".
"There are some quite big feral cats out there," he said.
In Australia, Prof Harris said, there had been feral cats shot weighing 40lbs (18kgs) and 5ft 9in (1.7m) long.
Dr O'Donoghue said the "Essex lion", which had been described as tawny, could not be a wildcat, which had grey and black stripes.
The precarious rarity of wildcats might also count against the likelihood of such a sighting - and Dr O'Donoghue says "time is rapidly running out for them".
He says he wants the research to help prevent "one of Britain's most incredible, iconic animals from disappearing from the face of the earth".