Schools warned over new uniform costs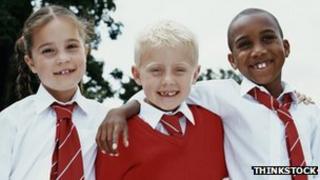 Schools in England are being urged to keep the cost of school uniforms down, as many "rebrand" themselves as academies.
The Local Government Association (LGA) says schools have a "moral duty" to keep costs down for parents.
The LGA says parents do not have an "endless pot of cash" for new uniforms as schools change colours or logos.
More than half of England's secondary schools are now academies or in the process of becoming academies.
There are also around 200 free schools in England, set up by groups of parents, teachers and charities.
'Restrict changes'
The LGA said schools which decided to alter their uniform - for example a newly-converted academy that decides to change its emblem - should restrict changes to one or two items or to sew-on logos.
It says the average secondary school uniform now costs more than £200, with primary school uniform setting parents back £160.
Councillor David Simmonds, chairman of the LGA's Children and Young People Board, said: "In the current education landscape dozens of schools across the country are changing their names or identities.
"It is understandable that many will want to mark this, but they need to remember that parents do not have an endless pot of cash for new school clothing.
"After already forking out for a whole new uniform when their children started primary or secondary school, the last thing parents want to hear is that they will have to foot the bill for entirely different uniforms, sometimes just 12 months later.
"Headteachers have a moral responsibility to minimise any additional costs that occur because they change their name or status, for whatever reason.
"That can be achieved by staying close to an existing colour scheme, changing one item only such as a tie, or allowing parents to sew new badges and logos onto clothes.
"Offering uniforms from a number of retailers and making it easier to attach logos to widely-available clothing also lets schools keep their individuality while bringing in the necessary competition to keep costs down."