Marlborough opens international school in Malaysia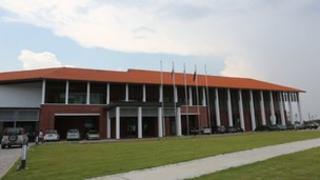 Marlborough College is the latest well-known independent school to open an outpost in Asia.
Some 350 children are set to begin their first term at Marlborough College Malaysia on Monday.
The Wiltshire-based school joins the likes of Dulwich College, Harrow and Wellington College in the international school market.
Private schools, like universities, often use overseas outposts to fund bursaries and lower fees in the UK.
Speaking in advance of the launch, master of Marlborough Jonathan Leigh, described the move as a "significant expansion of one of England's finest schools".
Malaysian metropolis
"We relish the opportunity to bring our teaching in its broadest sense to such a dynamic and exciting part of the world," he said.
"Marlborough Malaysia will give us the chance to enrich our experience and curriculum from an international perspective, which will prove to be hugely rewarding."
The new school is located in southern Malaysia's fast-growing special economic zone, Iskandar.
There has been at least £500m worth of infrastructure investment in Iskandar in the past five years as part of plans to create a metropolis for three million people by 2025.
A 350-acre university campus is also being built that will be shared by eight international universities, including three from the UK.
The school says places at Marlborough Malaysia are already in high demand.
It will take pupils from a mix of expat and Malaysian national backgrounds and will place great emphasis on boarding in its senior school.
And at about £8,500 a term for a boarding place, the fees compare favourably with Marlborough College Wiltshire's £10,500 termly boarding fees.
London's Dulwich College was one of the first private schools to open a satellite school, in 2007 in Suzhou, west of Shanghai, China.
Since then a number of prestigious independent schools have opened partner schools abroad.