Free school meals for all 'boost results'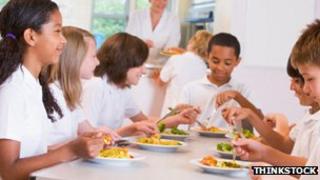 Offering free school meals to everyone can help close the gap between rich and poor pupils, a report suggests.
A study looking at the effects of extending free meals to all in two pilot areas of England suggests primary pupils advance by two months on average as a result.
Advances were most pronounced in pupils from poorer homes.
Researchers put the attainment boost down to improvements in pupils' productivity.
The study looked at the impact of extending entitlement to free school meals in three English local authority areas over a two-year period.
'Better food'
In two areas, Durham and Newham, meals were offered universally to pupils.
In a third, Wolverhampton, entitlement was extended to cover pupils in primary and secondary schools to a greater number of but not all pupils.
There was little change in either take-up of school meals or attainment on this partial expansion pilot.
But in the universal pilot, most pupils areas took up the option of taking the free meals.
The report suggested the nutritional content of school lunches was better than packed lunches. Better food has been linked previously with better behaviour.
Children were more likely to eat hot food, including vegetables and carbohydrates. They were also more likely to drink water rather than fizzy drinks.
'Levelling effect'
Researchers then compared the school results of children on the universal pilot with similar children in other areas.
They found an average increase in attainment of about two months for those in primary school.
And the impact was more pronounced for children from less affluent families and amongst those with lower prior attainment.
The study said school staff noticed a "levelling effect" in the quality of lunches eaten by pupils from different backgrounds.
The report said the increase in attainment "must arise as a result of improvements in productivity whilst at school".
The study said the universal approach cost the equivalent of around £220 per primary school pupil over two years.
It added that the universal entitlement pilot appeared to deliver better value for money "than some educational interventions".
'Not viable'
Children's Food Trust chief executive, Judy Hargadon, said: "These findings are serious food for thought.
"Offering free school meals to every child in Newham and Durham helped to make them more likely to eat a better diet at school, do significantly better in class - with an average of two months more progress by pupils at key stages 1 and 2 - and less fussy about what they ate at home."
A Department for Education spokeswoman said: "We are committed to ensuring that free school meals are available to those pupils who need them most, but it is not viable to continue the universal pilots in the current financial climate.
"It is right to focus schools' budgets on the government's priority of directly raising attainment for all children."
Sharon Hodgson, MP, chair of the All Party Parliamentary Group on School Food, said the evaluation showed the significant benefits from having universal access to nutritional and filling school meals.
" It provides real food for thought for a government which claims to want to boost attainment and increase social mobility, but which scrapped further pilot schemes within weeks of being elected.
"If they are serious about improving outcomes for all children, they need to seriously examine the positive impact that universal free school meals has had in Durham."
The Local Authority Caterers Association said healthy school meals not only improve concentration and attainment, but also have other wide-reaching benefits.
The research was carried out by the National Centre for Social Research, the Institute of Fiscal Studies and Bryson Purdon Social Research.
It comes after the education secretary Michael Gove ordered a review of school food, amid concerns that academies can opt out of strict nutritional guidelines introduced to raise standards in school kitchens.