Tuition fees set to rise again next year
By Sean Coughlan
BBC News education correspondent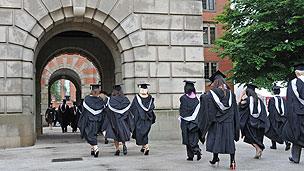 University tuition fees in England will increase again next year, the watchdog for fair access is predicting.
The Office for Fair Access (Offa) says fees for 2013 will rise to an average of £8,507 a year, slightly above the current average of £8,414.
It says universities will spend £611m of their fee income to support poorer students.
But Offa's director, Sir Martin Harris, says increasing competition might push some universities to lower fees.
However, the fees agreed for this second year in which tuition fees of up to £9,000 per year can be charged, show that an upward trend is continuing.
About three in four institutions are planning to charge the maximum for some or all of their courses.
Out of the 122 higher-education institutions included in the report - covering those receiving funding council income and with full-time undergraduates - every one plans to charge above the "basic fee" level of £6,000 per year.
The average fee for higher-education institutions in 2013 is going to be £8,615 per year and the average for further-education colleges which provide degree courses will be £6,429 per year.
The overall average will be £8,507 - with relatively little movement in fees compared with those for the 2012 intake.
When all university and government financial support is taken into account, Offa says the average fee cost is £7,898 per year.
Sir Martin, who is about to step down as head of the access regulator, says that the push for more competition for places could mean that some middle-ranking universities will have to rethink how much they are charging.
Universities have been given more flexibility over the numbers of high-achieving students they can recruit - allowing them to compete for students with AAB grades at A-level.
Sir Martin says that in future years this could make it harder for some universities to recruit these top A-level students - and this could mean a change in their fee levels.
"It may be that some universities and colleges may have to revisit the relatively high fees that they currently feel able to charge," he said.
The report from Offa sets out how much institutions will be spending on attracting and supporting students from poorer backgrounds.
It shows that across the higher-education sector, 26% of fee income above the basic level is used for access projects.
In 2013, this will include £434m to be spent on financial support, such as bursaries and fee waivers, and £96m on outreach work, such as summer schools.
The most recent application figures showed conflicting messages about the impact of the first year of higher fees.
Figures from the Ucas admissions service showed a 10% fall in applications from England - but there was only a marginal fall in the most disadvantaged areas.
University applications were still closely related to social background - but this pattern did not appear to have been altered by raising fees.
The biggest impact appeared to be by age group - with older students appearing to be less likely to apply.
Sally Hunt, general secretary of the UCU lecturers' union said: "When pushing higher fees through Parliament ministers promised that fees above £6,000 would be the exception rather than rule.
"Today's figures confirm our more accurate prediction that fees closer to the maximum of £9,000 a year would in fact be the norm."
Wendy Piatt, director general of the Russell Group of leading universities, said it was important to consider the "bigger picture" underlying university intakes.
"The root cause of the under-representation of disadvantaged pupils is under-achievement at school and poor advice on the best choices of A-level subjects and university degree courses," she said.
"Universities cannot solve these problems alone."
Business Secretary Vince Cable said: "The government is determined that no-one with the ambition and ability, whatever their background, should come up against barriers to accessing higher education."
Universities Minister David Willetts said: "Applications from students from disadvantaged backgrounds for 2012 entry are holding up well. Now we want more progress in widening access and improving retention."
Related Internet Links
The BBC is not responsible for the content of external sites.