Geography GCSE changes 'rushed'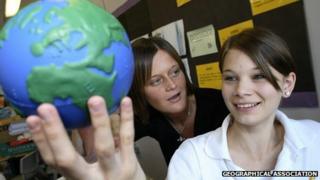 Exam boards have been accused of making major last-minute changes to geography GCSE syllabuses which could jeopardise pupils' learning.
Some schools only received new course details on Wednesday, days before the end of the school year, prompting complaints of an unrealistic timeframe.
Exam boards were ordered to tighten up geography GCSE by September because of concerns about standards.
A spokesman for the exams watchdog Ofqual admitted timing was tight.
Graham West, head of humanities at Wheatley Park School in Oxfordshire, told BBC News that the exam board Edexcel only notified him of the new syllabus on Wednesday morning, prompting him to write to Education Secretary Michael Gove.
In the letter, Mr West said: "The changes which are being put in place are by no means minor, they will require an increase in the content of the GCSE of around 50%, as well as other changes being made to current modules.
"I am not against changes being made to the GCSE specification; my objection is the unrealistic timeframe.
"If the government and Ofqual think that this is going to bring improvements in education they are at best naive and at worst playing political games with our young people and their future."
Mr West told the BBC the changes meant a huge amount of work to revise 200 hours of lesson plans.
"I knew the syllabus was changing, but I couldn't do anything about it until I heard how it would change and to what extent.
"With more notice I would have held subject meetings and worked out the new course in a considered way with colleagues but they have left us no space to collaborate or discuss."
The move to toughen up exams came after an investigation by the Daily Telegraph uncovered evidence of exam boards giving secret advice to teachers on how to achieve better grades for their pupils.
An undercover reporter filmed a senior Edexcel examiner claiming the company's GCSE geography tests were not as difficult as those from other exam boards.
In a statement Ofqual said: "Exam boards have been developing new versions of the qualifications and submitting them to us for accreditation.
"Those that meet our requirements are available to teachers, but we will not accredit any qualifications that do not meet the standards we require.
"We know that time is now tight for first teaching in September, but we could not allow the previous versions to continue and the new versions must pass muster."
Ofqual said more geography GCSE syllabuses from other exam boards had yet to be accredited.
'Rising concerns'
Professor David Lambert of the Geographical Association said that imposing the changes in a rush had generated "rising levels of concern in the teaching profession."
Brian Lightman of the Association of School and College Leaders said: "Giving teachers the details of exam changes on what is, for most, the last week of term would be laughable if it wasn't so serious."
A spokeswoman for Edexcel said: "We recognise the challenges that late access to specifications pose for teachers, and we have made changes as quickly as we could without compromising the quality of the specification. Ofqual accredited the first of our new qualifications last week."
The OCR and AQA exam boards, which still await accreditation for some of their new courses, said they would keep teachers fully updated on the progress of the changes.
New courses for history and English literature GCSEs will be taught from September 2013.