Child support changes will impact on '100,000 families'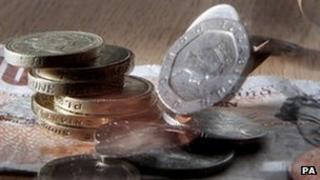 One in 11 families who currently get child support payments in England will lose out in a major shake-up of the system, government analysis suggests.
Ministers want to charge people to use a new maintenance service to encourage them to make their own arrangements.
But government analysis suggested 100,000 families were unlikely to do so and could lose child support payments as a result.
The government insisted more people will benefit from its changes overall.
Single parent charity Gingerbread, which has highlighted the government's own calculations, estimated that knocking those 100,000 families out of the system would result in the loss of £26m in child support.
'More effective'
The charity also stressed that of the 185,000 families the government said will enter their own arrangements, it was not clear if they would be worse or better off.
Under the shake-up, all parents who used the Child Support Agency would have their cases closed from 2014.
If they wanted to remain in the government-backed scheme, then they would have to pay a one-off charge of £20 and 7% of any maintenance paid by the newly named Child Maintenance Agency.
However, the same equality impact assessment for the Department for Work and Pensions also said the existing child maintenance system was "failing too many families".
It added: "The current Child Support Agency schemes do not deliver value for money with operational and IT difficulties at the heart of the problem."
It also said: "Reform is needed to ensure both parents take financial responsibility for their children."
'Serious impact'
And it said the government had pledged to deliver "a much more efficient and effective service" for those who continued to need help from the state scheme.
Gingerbread chief executive Fiona Weir said: "These are tough times for families and any missed maintenance payments could have a serious impact in single parents' ability to feed, clothe and care for their child.
"The government is so focussed on getting parents to come to their own arrangements that it has failed to see the serious financial impact these changes will have on the very children the service should be supporting."
A spokesman for the Department for Work and Pensions disputed the figures, saying they did not take account of an extra 50,000 families who were likely to benefit from the new system
'More children benefiting'
He said: "Overall, the research suggests the government's reforms will see more children benefiting from maintenance payments and, crucially, more separated families working together to support their kids.
"This has to be good for taxpayers, who currently pay over £400m per annum for the Child Support Agency.
"The research does not take into account the effect of better expert support services, into which the government has pledged £20m of new investment."
He added: "We'll be working closely with all parents whose CSA cases will be closing to make sure they do not lose out."