Separate adoptive siblings 'for own benefit'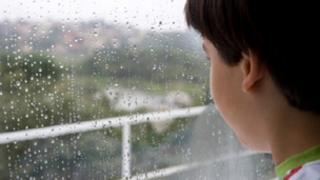 Brothers and sisters facing adoption should in some cases be split up for their own benefit, the government's adoption adviser has said.
Martin Narey said the presumption that siblings are kept together can sometimes "disadvantage children".
There are too few adopters willing to take brothers and sisters together, he said.
He also warned that keeping siblings together may not always be in the interests of individual children.
Current legal guidance to local authorities says siblings should be placed for adoption together unless there was good reason for them not to be.
Mr Narey said the law should be changed, so that "the case for placing siblings together should be considered on the needs of each individual child."
Mr Narey gave several examples of the negative consequences of keeping children from dysfunctional families together.
'Separation vital'
These included situations where "through a period of neglect, an older child has been effectively parenting a younger child".
He said research suggested that "it can be vital for them to be separated so that each child can develop a positive attachment with their new parents".
He also quoted research highlighting situations where "siblings' relationships are characterised by intense competition, bullying or scapegoating".
Other circumstances included situations "where they display harmful behaviour towards each other or where relationships perpetuate entrenched negative patterns of behaviour".
Launching a call for views on the issue, Mr Narey said when he was first appointed the government's adoption adviser it did not occur to him "to question the policy of keeping brothers and sisters together".
'Neglect and abuse'
But he added: "Over the last year I have become troubled by the extent to which the strong presumption that sibling groups are kept intact may disadvantage children, at best delaying and sometimes preventing their adoption."
Mr Narey warned about the dysfunctional relationships that can form between siblings in troubled homes and how this could hold back the development of one or more of them.
And he added: "Sometimes the challenge of adoption and compensating for an early life of early neglect and abuse might be considerably easier when parents are coping with just one child and not two, three or four."
He also pointed out that three-quarters of siblings in care have already been separated in foster care or children's homes.
"Separate adoption may be much better for some children than living separately in care."
A report on children's experiences of care in 2011 suggests 59% of children and young people in care had at least one brother or sister who was also in care.
And nearly three-quarters of these were placed separately from their brothers and sisters.
However, 92% of those who had been placed with their sibling felt this was the right move.
And of those who had been separated, 41% thought this was right in their case.