More work-based 'studio schools' announced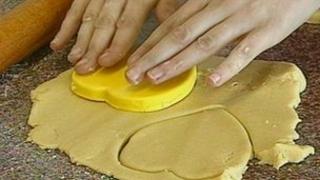 Fifteen new "studio schools" are to be set up in England for pupils aged 14 and over, combining academic studies and work-based training.
They are backed by employers including Hilton Hotels, Michelin tyres, Ikea and Aston Villa Football Club.
Pupils do weekly work experience and follow "nine-to-five" hours with the aim of getting them ready for work.
Supporters say the schools will improve employability, critics that they could push pupils down a path too young.
The studio schools will be generally smaller than other schools - typically having 300 pupils, aged from 14 to 19.
All will offer GCSEs in English, maths and science, the government says, as well as A-levels and vocational qualifications, but will offer a "more practical way of learning".
The idea behind them is to involve businesses so that pupils leave school with the skills needed by local and national employers.
Highly skilled workforce
A total of 11 studio schools are due to open this September, including one in West London, supported by the BBC, Fulham Football Club and Disney.
One in Liverpool which is specialising in "gaming and digital futures" is backed by Sony and Liverpool University.
The 15 announced on Wednesday are expected to open in 2013 or 2014 and will admit 4,640 pupils, bringing the total to 10,000, officials say.
They include the Southampton Studio School, backed by Southampton City College, which will specialise in the "marine and cruise industries", which employ a lot of people in the area.
Another, in Birmingham, will focus on the catering and hospitality industry and involves Aston Villa Football Club, Hilton Hotels and National Express.
In Devon, a studio school is being set up at Torbay Hospital with the aim of preparing students for careers in health and social care, an important industry for the area.
It is the result of a partnership between South Devon College and two NHS trusts.
Adrienne Murphy, joint director of Human Resources for the NHS trusts, said it was fantastic news: "This will give young people across South Devon the chance to gain first-hand experience in health and social care careers.
"The partnership will further develop the strong links that we already have with the college and enable Torbay Hospital and the health and social care community to continue to build up a strong and highly skilled workforce fit for the future."
Students in studio schools will be expected to do at least four hours of work experience a week. Those who are over 16 do at least two days work per week, for which they are paid. They will have a personal mentor at the school.
The first two Studio Schools opened in September 2010 in Luton and Huddersfield.
Education Secretary Michael Gove said: "Studio schools benefit both business and young people - they are a brilliant way for employers to become involved in helping give young people what they need to get good jobs.
"They are aimed at children who learn in more practical ways and offer good qualifications alongside the kind of skills employers want.
"Studio Schools teach a rigorous academic and vocational curriculum in a practical way.
"It is fantastic that so many successful employers are getting behind the studio school movement."
'Nail in coffin'
The schools are part of the government's strategy to improve vocational education, like University Technical Colleges (UTCs), which are also for young people aged from 14.
The government says the UTCs will be more technically-based, offering more advanced technical training.
The National Union of Teachers says the schools will fragment the state school system while denying children "the broad balanced curriculum they deserve".
The union's general secretary Christine Blower said: "Studio schools are an unnecessary additional type of school within a system that already has too much diversity.
"Studio schools represent a further threat to local education provision, fragmenting local admissions arrangements and the provision of local education services, as well as the funding and intakes of neighbouring schools."
Nansi Ellis, for the Association of Teachers and Lecturers (ATL), said the schools were "another nail in the coffin of state education" and that the union was against children making career choices too young.
The studio schools announced on Wednesday are:
Kajan Hospitality and Catering Studio, Birmingham
Waverley Studio College, Birmingham
The Stoke Studio College of Manufacturing and Design Engineering
The Da Vinci Studio School of Creative Enterprise, Letchworth, Hertfordshire
New Campus Basildon Studio School
Goole Create Studio School, East Riding, Yorkshire
Southampton Studio School
Devon Health Studio, Torbay
The Walsall Studio School
Midland Studio College, Nuneaton
The Darwen Aldridge Enterprise Studio
The Rye Studio School, East Sussex
Liverpool Tourism and Culture Studio
Film, Theatre and Costume Studio, Bradford
Health Occupations Studio, Bradford