UK pupils in summer school for US universities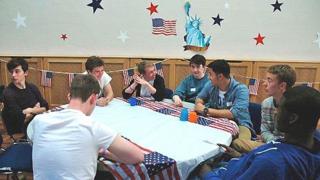 Billy Cavell's 17th birthday is on Sunday - and he's flying to the United States for the first time.
Not as a birthday present, but because he's one of the 64 UK teenagers who have been picked from 700 applicants to take part in the Sutton Trust education charity's first US Summer School.
Billy is from a comprehensive school in Essex - the other sixth formers come from all over the UK.
There are 37 boys and 27 girls - all pupils at non-selective state schools or sixth form colleges.
They're all predicted to get at least three grade As at A-level. Around half are eligible for free school meals and most, like Billy, will be the first generation of their family to go to university.
His father's a taxi driver, his mother a school dinner assistant.
These are the kind of students the Sutton Trust has been helping for 15 years in Britain, through summer schools at Oxford, Cambridge and Russell Group universities.
According to the trust, 80% of their summer school students get into a leading university, advancing the cause of social mobility.
Now, with increasing globalisation, the trust has extended its programme.
State school pupils
In recent years, growing numbers of UK students have been applying to undergraduate courses in the US.
The Fulbright Commission, which promotes educational exchange between the UK and US, is supporting the programme.
It is keen to encourage more students from state schools to study in the US - as many previous applicants have been from independent schools.
Tahmid Chowdhury, aged 17, is a star pupil at the Central Foundation Boys School, a comprehensive in central London.
Like the other successful applicants he has a string of A and A* grades at GCSE. But Tahmid said it was the breadth of the US undergraduate courses which really appealed to him.
At Oxford, he would apply to read English or law - but in the US he would be able to continue with many more subjects - like geography and maths which he has had to drop.
Amy Errington, from Seaton Burn College in Newcastle is also flying to Yale on Sunday.
She is currently studying what she describes as a "weird" combination of subjects at A-level - geography, maths, biology and chemistry.
In the UK she was thinking of studying fine arts, or mechanics. "My indecisiveness is one reason why studying in the US is so appealing" she said.
Funding incentives
The Sutton Trust is encouraging students to look beyond the most familiar Ivy League Universities.
Although Tahmid said he would like to apply to Harvard, and Billy plans to apply to Harvard and Yale, Amy said she was interested in Vassar College in upstate New York.
It's a university very well known in the US, less so outside of the country.
For all students from the UK, the financial side is attractive.
Although Harvard's advertised fees are over $50,000 (£32,000) a year, these students would be eligible for a full scholarship, covering all not only fees but living costs and flights home too.
They would have no student debt. The only disadvantage, according to the students, would be leaving their family.
Only part of the summer school will be in the US - visiting leading US universities, including Harvard, Princeton, Columbia and meeting professors and current undergraduates, both from the UK and the US.
There are sessions in the UK too for the students and their school teachers.
Application process
They will learn about the US application process and how to prepare for aptitude tests. The process is different from UCAS and personal qualities are more important.
Entry to the top universities is extremely competitive, far tougher statistically than getting into Oxford or Cambridge.
So the Sutton Trust says it has no target number of places at Ivy League universities.
Chairman Sir Peter Lampl wants to set up "a pipeline" for UK state school students to "reap the benefit of undergraduate study in the US" - and not just at the most famous schools.
As for Tahmid, Billy and Amy, they're just looking forward to the trip. None have ever been to the US before.