School leaver uni data published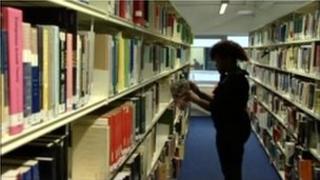 Over 15% of schools and colleges in England (330) did not send any pupils to top universities, figures show.
The Department for Education data shows how many students went to Oxford, Cambridge or other leading Russell Group universities in 2009-10.
Of the 13 schools sending the highest proportion to these research-intensive and highly regarded institutions, 11 were selective grammar schools.
About 64.5% (1,395) did not send any youngsters to Oxford or Cambridge.
A total of 2,164 maintained schools and colleges were included in the figures.
Independent schools were excluded from the data.
Four schools and colleges did not send any pupils to university in 2009-10.
Local authorities
The local authority with the highest proportion of pupils going to the 20 universities in the Russell Group was Reading, where 28% took up places at these top institutions.
Trafford and Sutton were joint second, with 23% heading for these leading universities.
Queen Elizabeth's School in Barnet, London, sent the highest proportion of pupils to these institutions at 66%.
Reading was also the authority sending the highest proportion of young people to Oxford or Cambridge (7%), followed by Sutton (3%).
On a school level, Colchester Royal Grammar School in Essex had the highest proportion going to Oxford or Cambridge at 16%.
In total, 1,395 schools or colleges sent no pupils on to Oxford or Cambridge.
Total in education
The statistics show 64% of pupils in England were in "sustained" (for at least six months), education after taking A-levels, with 52% studying at university.
Among local authorities, Harrow had the highest percentage in education (79%) and Portsmouth the lowest (48%).
The government said it was publishing the information so parents had greater information on which to base decisions.
Schools Minister Lord Hill said: "We are opening up access to this new data so people can see how different schools and colleges and local authorities perform.
"It is interesting to see how well some local authorities in more deprived areas, and some schools and colleges in those authorities do in terms of students going to our best universities, compared to those in other parts of the country."
'Major divide'
Shadow education secretary Stephen Twigg said: "These figures show there is still a major divide between rich and poor in our education system.
"What is worrying is that the government risks making things significantly worse, by abolishing the education maintenance allowance, trebling tuition fees, and getting rid of advice services.
"At the same time, schools need to be far more ambitious for their pupils to get into top universities."
Russell Group director general Wendy Piatt said: "We want every student with the qualifications, potential and determination to succeed at a Russell Group university to have the opportunity to do so, whatever their background or whatever school they have attended."
Sally Hunt, general secretary of the University and College Union, said: "There is still a postcode lottery in the UK when it comes to education. Unfortunately where you live still makes a difference on how you get on in life.
"We cannot afford to have areas in the country where it is unheard of for people to go to Oxford and Cambridge."