Ministers 'rush to approve private degree courses'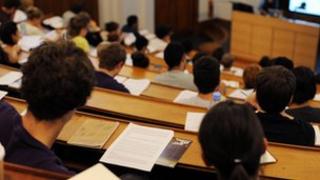 Ministers are being accused of "falling over themselves" to approve degree and diploma-level courses at private colleges in England.
New figures show 400 courses have been approved since 2010 when ministers pledged to open up the higher education market.
Private colleges are not subject to the same quality checks as public universities.
The government said it planned to strengthen checks on private providers.
Currently it is the Student Loans Company which checks course descriptions against information on courses in the public domain. It then passes this information on to government officials.
However, the universities minister David Willetts said in a parliamentary written answer earlier this year that such checks did not cover the quality of education provided.
Instead many private providers form partnerships with specific universities which take on a validation role for certain courses.
'Unregulated'
The figures were published by the Student Loans Company in response to a Freedom of Information request from the Times Higher Education magazine.
They showed the number of courses approved in 2011-12 rose by 77% from 228 in 2010-11 to a total of 403 in 2011-12.
The acceleration of the approval rate is also illustrated by the fact that one college had 98 courses approved by officials in just a single day.
Another college had 22 courses approved just weeks before it was closed by the UK Border Agency.
Head of the UCU academics' union Sally Hunt said the data showed how little oversight the government has given to courses run by private providers.
She added: "At a time when public universities are being starved of funds, ministers seem to be falling over themselves to sign off ever- increasing amounts of taxpayers' money to more or less any company which applies for designated course status."
The government should act to to halt the "unregulated process and introduce stringent regulation for private providers", she said.
Students on such "designated" courses qualify for government-backed tuition fee loans from the SLC.
'Quality checks'
The firm said that some £55m in loans and grants was allocated to courses with private providers in 2010-11.
This figure is expected to rise considerably as such providers are able to increase their course charges from about £3,000 to £6,000 from this September.
But unlike universities, most private providers are not subject to stringent quality checks by the Quality Assurance Agency.
Universities UK said the UK's public universities were some of the most highly-regulated in the world.
It said the QAA, which bases its checks of public universities on a "set of UK-wide nationally-agreed reference points", has a key role in monitoring standards and auditing institutions.
Universities UK added that such private institutions were not subject to student numbers control or any of the accountability requirements from the funding body, Hefce.
'Due diligence'
A UUK spokesman said: "We are very supportive of finding a way to bring them under the same student number controls and onto a level playing field, ensuring that they engage with the QAA, Hefce etc in the same way that our institutions have to.
"This is important to ensure that these organisations (QAA, Hefce) are seen to be meeting their obligations to safeguard the student experience and ensure public funding is spent effectively."
A Department for Business, Innovation and Skills spokesman said all courses designated for student support must be validated by a recognised UK awarding body - such as a university - to help ensure quality.
"In the last 12 months, we have also introduced due diligence checks on organisations applying for designation for the first time. These look at a range of factors including financial sustainability and consideration of any parent company.
"But we recognise the case for going further and have recently said we are now looking at introducing more robust and transparent requirements on quality assurance, financial sustainability and governance," he added.
The Student Loans Company said it checks colleges by asking them to provide information about the courses they offer including timetables, intensity and amount of days of study required.
It then checks this against information in the public domain and passes it on to the Department for Business, Innovation and Skills.