Boys' reading skills 'must be tackled'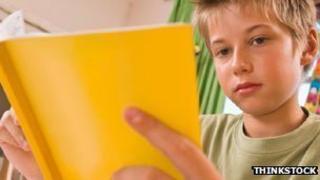 The reading gap between boys and girls in England is widening but there is no official strategy to address it, a report says.
The All-Party Parliamentary Literacy Group Commission says some boys find reading "nerdish" and receive less parental encouragement than girls.
It calls for action in schools, home and communities.
The government said it was focusing on getting every child to read using phonics and reading for enjoyment.
The Boys' Reading Commission took evidence from teachers, 226 schools and 21,000 young people in the UK .
Its report, compiled by the National Literacy Trust, found that although there had been improvements in boys' reading since the National Literacy Strategy was introduced in 1998, in recent years the gender gap had started to widen again.
Last year, 80% of boys reached the expected level in reading at age 11 compared with 88% of girls.
In the early years of secondary school the gap widens further, with boys outstripped by girls in English by 12 percentage points at age 14.
Last year, 59% of boys achieved an A* to C in English GCSE compared to 73% of girls.
The findings also suggest girls are enjoying reading more than boys and that this difference has been intensifying in recent years.
'Victims of the system?'
The report also notes that gaps in achievement between the genders have been tackled before.
It says: "During the 1970s and 1980s, the consistent underperformance of girls in maths and science was a major concern.
"While these issues have been successfully addressed, concerns have shifted to the underperformance of boys in reading and English."
But it adds: "However, there is evidence of the literacy gender gap has been around for some time, with girls outperforming boys for perhaps as long as 60 years."
The commission suggests it is the interplay of the school system, the home environment and gender identity that can have a negative impact on boys' reading.
But it notes that many boys experience no literacy difficulties at all and that concepts which label all boys as "victims of the system" should be avoided.
'Exception'
Commission chairman Gavin Barwell MP said specific action to address the gender issue was required.
He said: "Not all boys struggle with reading and while the literacy gender gap is seen internationally, there are notable exceptions including Chile and the Netherlands.
"Something we are doing as a society is making boys more likely to fail at reading."
Expert witnesses to the inquiry raised concerns about the teaching of reading which places an exclusive emphasis on decoding words through synthetic phonics.
Contributors including former children's laureate Michael Rosen stressed the importance of encouraging the enjoyment of reading.
The commission also examined the influence of the home environment on reading ability.
It cites earlier research which suggests parents do not support boys in their reading to the same extent as they support girls.
This is backed up by National Literacy Trust research which found that boys are less likely to be given books as presents.
Children's author Michael Morpurgo said: "The problem is cultural and deep-seated, therefore unlikely to be resolved quickly. The effort to turn things round has to be multi-faceted and has to be sustained over decades."
Schools minister Nick Gibb said: "Reading for pleasure is key to boosting a young person's life chances. As a government, improving reading standards in schools is central to all our education reforms.
"Through phonics we are ensuring all children learn the mechanics of reading early in their school career.
"Helping children to develop a love of reading and a habit of reading for pleasure every day is key to ensuring we have well educated and literate young people by the time they leave school."
The National Union of Teachers' general secretary Christine Blower said gender was a significant factor, but not the only one at play in determining performance in and attitudes to reading.
She added: "As the inquiry recognised, school libraries and dedicated school librarians also play a key role in fostering the interest of all children in a wide range of books and reading materials.
"With the pressure on school places in many areas school are closing their libraries and losing the expertise which has long supported children's reading."
She also called for the early reading curriculum, with its intense focus on phonics, to be less prescriptive.