New grammar tests will 'impoverish English teaching'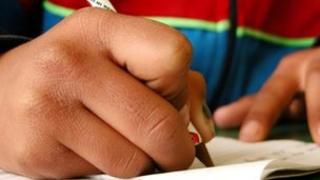 Plans for new primary school grammar tests in England will hold a "gun to the head" of teachers, experts say.
The National Association for the Teaching of English says a revised focus on spelling, grammar and punctuation will "impoverish" teaching.
Its chairman, Dr Simon Gibbons, says the reforms are based on ministers' "diminishing memories of their own grammar- and public-school educations".
The government says it wants higher standards in English.
But Dr Gibbons, chairman of the association and expert in English education at King's College, London, warns that such an approach will turn pupils off the subject.
In a speech to his association's annual conference in York on Friday, he says teachers have been "presented with a reductive primary curriculum dominated by phonics, spelling, grammar and standard English".
'Throwback to 1950s'
He continues: "We are likely to see a secondary curriculum (if we have one at all beyond an O-Level syllabus) similarly impoverished, but with the addition of a list of set books drawn from the great and the good of the literary canon."
He told the BBC News website: "Most English teachers try to teach grammar in context rather than through formal exercises. There's very little evidence of a benefit to teaching grammar in that way.
"It's a throwback to the 1950s' formal grammar teaching."
He also criticised plans to introduce a new national grammar test, called the technical aspects of English, for all pupils in the top year of primary school.
The test, which will be sat for the first time by pupils next summer, measures children's ability to "demonstrate their knowledge of grammatical tests", he said.
It "will effectively hold a gun to the head of teachers who want to take risks", he said, adding that it would lead to teachers drilling pupils with grammar exercises.
"The myth that people want you to believe is that you become a better writer as a result.
"Motivation and engagement are the things that help children learn, and underlining parts of a sentence, I don't think that really does it for most people," he added.
The Department for Education said a focus on spelling and grammar would be at the heart of the new primary school English curriculum.
It said the draft programmes of study were subject to an informal consultation to invite debate.
It added: "The draft programme of study for English at primary school will be far more rigorous than before.
"It will demand higher standards from pupils aged five to 11, with a higher expectation of what children should know as they go through primary school.
"Its aim is that children in England will leave primary school with a strong command of written and spoken English, and high standards of literacy."