New Order's Peter Hook launches music industry degree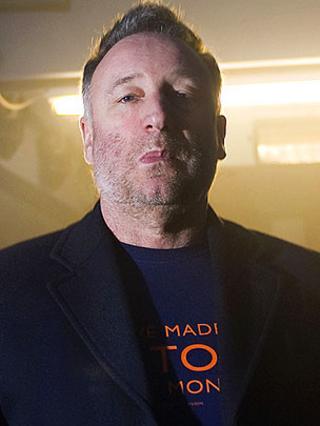 Peter Hook, a member of critically-acclaimed bands Joy Division and New Order, is launching a music industry degree.
The University of Central Lancashire is partnering the bass guitarist and other music industry figures in a degree in music management and promotion.
The masters degree will combine music, academic and business experience.
"What I've learned is that life is a balance between idealism and realism," says Mr Hook.
"One of the great things about education is that it should stop you making mistakes - and I have made a lot of mistakes," says Mr Hook.
As a mentor to students, he wants them to benefit from his own experience of how not to manage the business - with record labels and night clubs, such as Factory and the Hacienda.
"The way that Factory worked, it was full of very creative people who never looked after business - and that's why all those businesses crashed.
"They were based on very idealistic ideas, very creative, very naive.
"They only rumbled on because Joy Division and New Order's success paid for all our mistakes.
"In Factory and the Hacienda - and in many ways in New Order and Joy Division - we never really looked after business."
'Grim out there'
In the spirit of "putting something back", he says wants the course to give youngsters an extra edge in a tough jobs market.
"This is quite a logical and important step in helping young people - because it's pretty grim out there.
"Everybody comes out of courses full of ideas, full of ideals, and when they get to the job - it's completely different.
"You come from the classroom and arrive in a place like the Factory club and you're dealing with a thousand drunken punters every Friday night - that's the business end they have to learn about."
An elder statesman of the music world - able to date his career in music to precisely 36 years ago when the Sex Pistols played Manchester - Peter Hook has reached the stage in the life-cycle of rock where he is now a subject of academic study.
Both the gloomy solemnity of Joy Division and the chemical excesses of Madchester are already at the stage of being turned into movies and art projects.
He says he has been helping students who are writing university dissertations about his bands - and going into schools to give careers talks.
Musicians giving such talks can be an odd combination, he says. "They tend to be very damaged - but they've still had a great time. It's a very heady mix."
Love not money
Les Gillon, who is the course leader, says he wants about 10 students to launch the course - a cohort that they can "mentor intensively".
Even though this is about the business end of management and promoting bands, he says that it's about the "love of music, rather than the love of money".
"We want to make it possible for students to support the music that they love - to make it financially sustainable."
And Mr Hook is scornful of the talent show approach of setting up a music career - questioning how such formats would have responded to idiosyncratic and individual performers, such as Joy Division's lead singer Ian Curtis.
"The thing that makes me laugh is - what would Simon Cowell have said to Ian Curtis? He would have said: 'Goodbye.'
"What would he have said to Ian Brown or people who I count as important in my life? They would have dismissed them. They don't have technical ability, but they've got something called soul."
Mr Hook says that he wants the course at the University of Central Lancashire to combine that sense of soul with an understanding of the "dirty end" of music as a business.
"We've got to give them a rounded perspective - the two things are equally important."
The course is going to draw on people with a hands-on understanding of how the music industry operates.
This will include music venue magnate, Aaron Mellor, who Mr Hook says will deliver the "realism" to his own "idealism".
There will also be Tony Rigg, former operations director for the Ministry of Sound and who has a recording studio business, who says the course will give students "real-world experience".
"We're bridging the gap between academia and employment and equipping them to set up their own enterprises," says Mr Rigg.
He describes the project as a "phenomenal hybrid".
The university is also going to give Mr Hook an honorary fellowship.
Although for anyone with a memory of mid-70s middle-of-the-road pop, he says, his only concern is that such a move might leave him with the uneasy title of Dr Hook.