Maths should be compulsory until 18, says MP report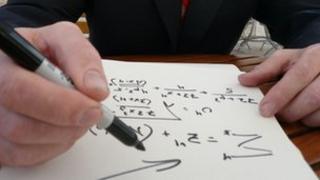 Maths should be compulsory for all pupils up to the age of 18 - and should be taught separately from the exam system, says an MP's report.
Elizabeth Truss says maths in the UK is falling behind international competitors and more pupils need to study the subject beyond the age of 16.
She wants the changes in the way maths is taught to accompany the raising of the school leaving age to 18 in 2015.
"Urgent action" is needed to improve maths, the MP says.
The report from Ms Truss says maths is the UK's weakest subject in the Organisation for Economic Co-operation and Development (OECD) Programme for International Student Assessment (Pisa) tests - the UK is ranked in 28th place for maths in the most recent survey.
International tests
She says the UK is also unusual to have just one out of every five pupils taking maths beyond the age of 16 - as the subject is limited to those taking maths as an exam subject.
To catch up with international competitors, she proposes maths should be taught until the age of 18, in parallel with other academic and vocational exams.
Her research paper suggests maths could be taught at three different levels of difficulty.
Ms Truss, MP for South West Norfolk, believes there is a worrying lack of maths skills in the workforce.
She says social mobility is also being hampered - as pupils in private schools are more likely to take maths A-levels than their counterparts in state schools.
She says not taking maths at A-level - or not even having the option to take maths - becomes a barrier to young people who want to go on to study some science subjects at university.
"The government needs to take urgent action to address the lack of mathematics attainment in schools," she says.
"Current failings are hampering social mobility and the UK's long term competitiveness."
The report echoes the findings of a review by Prof Alison Wolf who called for teenagers without good GCSEs in maths and English to continue studying the subjects up to 18.
Head teachers' leader Brian Lightman said that numeracy skills were of "vital importance to the economy" - but there needed to be a "coherent approach" to changes to the curriculum.
"We need to look at the curriculum as a whole and not add to it incrementally," said Mr Lightman, head of the Association of School and College Leaders.
The CBI business organisation said employers needed more people with maths skills.
"The CBI has called for all young people to be encouraged to continue their maths and numeracy education post-16, to support the UK's need for highly numerate technicians and employees with strong levels of science, technology, engineering and maths skills," said James Fothergill, the CBI's head of education and skills.
"Most businesses need some employees with logical and problem-solving skills, which are grounded in the knowledge of mathematical theory.
"Effective use of statistics and probability, and the ability to do complex calculations and algebra are common currency in modern workplaces."