Teachers' concern over reading for pleasure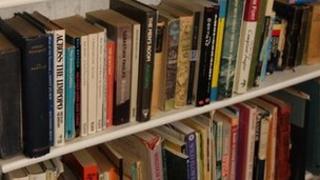 More than two-fifths of UK teachers say children are turned off reading for pleasure by the time they finish primary school, a survey reports.
The survey, which questioned 410 secondary school English teachers, found the majority (94%) thought their pupils preferred to spend time online.
Two-thirds of those polled said reading was not seen as "cool" by pupils.
And 97% thought parents could do more to encourage their child to read, the survey for publishers Pearson found.
Nearly three-quarters (74%) warned that pupils did not spend enough time reading outside the classroom.
Some 83% of teachers said boys were likely to be engaged by fantasy novels, while 65% said the same for girls.
And 93% of teachers said that boys were likely to find horror books engaging.
'Worrying'
Children's author Frank Cottrell Boyce said: "It's worrying to think that so many young children are not being inspired to pick up a good book and get lost in a story.
"According to Unesco (the United Nations agency which promotes knowledge), the biggest single indicator of whether a child is going to thrive at school and in work is whether or not they read for pleasure.
"Clearly we need to make sure we are providing our children with the right types of books which stimulate their interest, capture their imagination and make them turn the next page."
Schools Minister Nick Gibb said the findings of the survey were "no surprise" and that the government was working to encourage children to develop a love of reading. It would launch a national reading competition for schools for the next academic year, he said.
"In a world of so many distractions for young minds, the place of literature is more important than ever," he said.
"Children need to master the basics of reading as early as possible in primary school so they can then go on to explore magical and powerful books such as Private Peaceful, Harry Potter, and, in good time, books such as Lord of the Flies, Animal Farm and those by Charles Dickens."
The survey was commissioned to mark the launch of a new set of classroom reading books.
The Heroes series includes novels by Bali Rai, Nigel Hinton, Chris Priestley and Cathy Forde.
The books are all in genres that weaker readers tend to prefer - action, crime, fantasy, horror and adventure.
They are made up of short chapters or scenes that include plenty of dialogue and action, as well as cliffhanger endings.