Childcare review launched as nursery reforms urged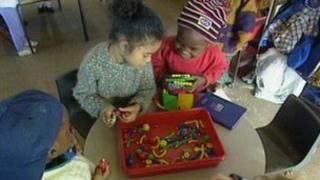 Downing Street is launching a review of childcare and child-minding to see how it can be made more affordable by cutting red tape.
Government research suggests six out of 10 parents feel there is insufficient childcare in their area.
The move comes as an official review of early years education in England calls for all nursery staff to have A-level standard professional qualifications.
The Nutbrown Review also wants their maths and literacy skills strengthened.
Prof Cathy Nutbrown was asked by the government to look at how the childcare workforce could be strengthened.
In her report, she says the current system of early years qualifications is not "equipping practitioners with the knowledge, skills and understanding they need" to give babies and young children a good start.
She warns that there are too many qualifications and calls for them to be strengthened.
'Dividends for future'
And she wants nursery staff to increase their skills over the coming decade so that everyone working with children has a professional qualification, equivalent to two A-levels by 2022.
All those wishing to train as nursery workers should be able to begin that training only if they have GCSEs in English and maths, she says.
Currently at least 50% of staff have to be trained to GCSE level, though many nurseries will have many more than that.
Prof Nutbrown says that investing in good quality childcare pays dividends for children later on.
She said: "Early education and care needs to support babies' and young children's all-round well-being and development.
"That is why I want the workforce to really understand child development, the importance of play, and have good English and maths skills.
"There is no doubt that high quality education is important. We need to make sure the early years workforce has the necessary skills, qualifications and experience to provide the very best for our young children."
'Bright people'
Children's Minister Sarah Teather said: "We need to attract bright people to the sector so that our young children get the best possible start in life - after all, they only get one chance.
"We will now consider her report very carefully before responding in further detail later this year."
Charity 4Children said the changes would require more investment - from government, both local and national, from providers and employers, and from staff themselves.
They said training would take longer, wages would need to increase, and investment in the quality of the early years workforce would need to grow.
Downing Street's Childcare Commission, launched to coincide with the publication of the Nutbrown report, will look at how childcare can be made more affordable.
It comes after the Department for Education released a report showing that almost a quarter of childcare providers in England are making a loss despite fees being among the highest in the world.
The commission will focus on deregulation, child-minding and how to expand wrap-around care for schoolchildren.
But 4Children chief executive Anne Longfield said: "This is an area of childcare which has been particularly affected by spending cuts and there are particular shortages during school holidays.
"But there will be no easy way to reduce cost. The main cost of any childcare is staff and the report of the Nutbrown review recommends that staff skills and qualifications should be enhanced.
"A higher quality staff team does open the possibility to reviewing staff ratios but there must be no shortcuts here."
Chief executive of the Pre-school Learning Alliance Neil Leitch said it would be a challenge to turn the Nutbrown recommendations into a "framework that is progressive, respected and affordable."