Teachers' unions urge rethink of phonics checks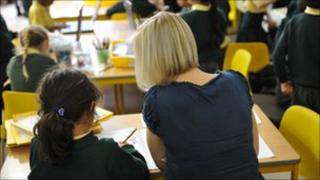 Leaders of three teachers' unions have written to MPs urging a rethink of the phonics checks for six-year olds in England's schools.
The unions say the controversial tests are an expensive way to tell schools what they already know and will do nothing to improve children's reading.
They describe the checks on how well children can read both real and made-up words as "flawed".
Schools Minister Nick Gibb called the unions' position disappointing.
Mr Gibb said: "Many of their members have already told us how this quick check will allow them to identify thousands of children who need extra help to become good readers.
But in a joint briefing note to MPs the leaders of the National Union of Teachers, the Association of Teachers and Lecturers and the National Association of Head Teachers voiced their concerns about the checks.
'Zog' and vot'
All Year 1 children (five and six-year-olds) will be asked to read 20 words and 20 "made-up words" such as "zog" or "vot" to their teachers on a one-to-one basis.
The checks are expected to take five to 10 minutes.
The aim is to measure whether pupils have a good understanding of phonics - the sounds of letters and groups of letters - which the government says is the key to helping children to read.
The government has asked teachers to feed the results back to parents before the end of term.
The unions say the use of made-up words will frustrate confident readers and confuse children for whom English is a second language or who have special educational needs.
They also voice concerns that the checks risk making young children feel like failures, pointing out that in the pilots only 33% of children reached the expected standard.
They say they do not object to the use of phonics which they view as an essential tool for teaching early literacy but say they are not the only method of teaching children to read.
Mary Bousted, general secretary of the Association of Teachers and Lecturers said: "Once again the government is totally failing to understand how children learn - phonics checks for six-year-olds risk doing more damage than good."
Russell Hobby, general secretary of the National Association of Head Teachers said the test risked "distorting teaching".
Chrstine Blower, general secretary of the National Union of Teachers said the message to the government from professionals was "that they want freedom to adopt whatever method best suits their children and not be pushed down a one-size-fits-all route."
'Informal experience'
The teachers' unions warn that they may refuse to take part in the 2013 checks.
The Department for Education said the assessments were designed to be an informal experience for children, raise expectations in schools and give parents and teachers valuable information about progress.
Mr Gibb added: "There is a weight of international evidence which demonstrates that phonics is the most effective way of teaching early reading. It is crucial for children to master the basics of reading as early as possible so they can go on to develop a real love of reading.
"Parents want to know exactly how well their children are performing and, if they need help, what their teachers are doing to provide it. This check will help teachers to keep parents fully informed."