Shakespeare lessons for three year olds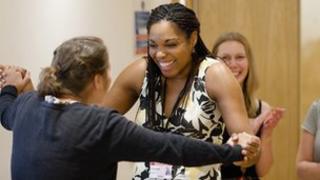 Any concerns about Shakespeare not appealing to the young are being challenged by a project bringing The Tempest to nursery-age children.
Shakespeare's Globe Theatre, re-constructed near the original site by the Thames, is running a drama project for children as young as three.
The theatre's education department is working with local Southwark schools.
The Globe's Maggie Tildesley says that these young children enjoy taking this "magical journey".
Ms Tildesley says it is important for the Globe to reach out to the surrounding schools in Southwark, south London - where the playwright lived and worked four centuries ago.
Illiterate audiences
"The ethos of the Globe is to transcend beyond the walls," she says.
And if anyone thinks it is strange to study Shakespeare before learning to read - she says that many of Shakespeare's original audience would have been illiterate.
"He was writing for everyone - not just academics," she says.
"There are lots of different ways to explore Shakespeare."
The theatre's education department, Globe Education, is working with local primary and secondary schools and training staff - including projects for pre-school children .
For these children, the play might be more "physical than verbal", she says.
They look at The Tempest through the perspective of the play's spirit character Ariel - and even though they use devices such as puppets, the original text is followed.
Ms Tildesley says that there is much to be derived from hearing the text - the rhythm of the lines and the sounds of consonants and vowels.
In Southwark's school population, she says, there are already more than a hundred different home languages - with many children used to listening to words they might not fully understand.
Ms Tildesley also emphasises the importance of being able to interpret plays in different ways for different audiences. "They are plays to be playful with... You need a sense of play."