Tougher maths in primary school curriculum review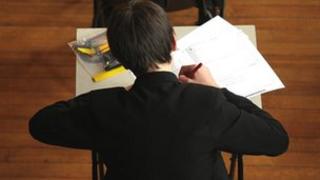 Pupils in England's primary schools will be expected to know their 12 times table by the age of nine, in a revised national curriculum.
There will be an emphasis on improving arithmetic in changes for schools proposed for September 2014.
There are also plans to scrap the current system of levels used for Sats tests and measuring pupils' progress.
The Department for Education says it wants to "restore rigour in what primary school children are taught".
But Chris Keates, leader of the NASUWT teachers' union, described the changes as a "cosmetic exercise".
Making it count
"Longstanding, un-evidenced ministerial whims about what should and should not be in the curriculum appear to have won the day," said Ms Keates.
The changes set out for consultation by the Department for Education represent the latest shake-up of what is taught in primary schools in England.
In maths, the curriculum review wants to ensure strong foundations in adding, subtracting, multiplying and dividing, so that pupils are ready for more stretching maths topics in secondary school.
By the age of seven, they will be expected to know their number bonds - simple addition and subtraction - up to 20. The department gives the examples of 9 + 9 or 16 - 7.
Such changes are described in terms of matching leading international competitors - such as school systems in Hong Kong and Singapore.
In science, there will be content added on the "solar system, speed and evolution", with an "increased focus on practical scientific experiments and demonstrations".
The lives of famous scientists, such as Charles Darwin and Sir Isaac Newton, will also be studied.
Earlier announcements proposed that learning a foreign language would be compulsory from the age of seven.
In changes to English, there will be a greater emphasis on learning grammar and pupils will be expected to be able to recite poetry.
League table tests
The other subjects of the primary curriculum will be kept - with a continuing requirement for art and design, design and technology, geography, history, ICT, music and physical education.
But there is a major change proposed for how achievement is measured - with plans to remove the current system of levels.
These levels are used by schools to measure pupils' progress - and the percentage of pupils reaching Level 4 at the end of primary school is the key measure used in primary school league tables.
Such measures are also considered by inspectors - and the level system advances through primary and into secondary schools.
If the levels are removed, according to the proposed timetable it would mean a different system of grading and league tables for tests taken in the spring of 2015.
Education Secretary Michael Gove says that the current system is "confusing for parents".
In a letter to Tim Oates, chair of the expert panel for the curriculum reforms, Mr Gove says there will need to be another way of measuring achievement.
"Some form of grading of pupil attainment in mathematics, science and English will therefore be required, so that we can recognise and reward the highest achievers as well as identifying those who are falling below national expectations," writes Mr Gove.
Christine Blower of the National Union of Teachers welcomed the "abandonment of awarding levels", but said she wanted to see the detail of any replacement grading system.
Leader of the ASCL head teachers' union Brian Lightman said that this would also mean scrapping the level system in secondary schools - and warned of a "vast amount of uncertainty".
'More demanding'
Russell Hobby, leader of the National Association of Head Teachers, said the curriculum review had positive changes in science and in encouraging reading for pleasure.
And he said that the new versions of maths and English would be "more demanding".
But he said the "proposals are less dramatic than they seem at first glance".
"Nine out of 10 primaries already teach a foreign language. Phonics is also already widely used, and speaking and listening are similarly encouraged."
Mary Bousted, head of the ATL teachers' union, strongly attacked the proposals.
"Politicians who have been in the job for two years are presenting a heavily-prescribed curriculum as a fait accompli to thousands of teachers - many of whom have decades of experience in the classroom," she said.
Shadow Education Secretary Stephen Twigg said: "Labour supports a strong focus on the core subjects of English, Maths and Science from an early age, as well as making learning a foreign language compulsory from age seven."
But he warned that "the government must ensure it bases its reforms not on ideology, but on what works in the classroom".
The national curriculum is not obligatory for academy schools - but they could still follow its recommendations.