Firms offer school leavers remedial classes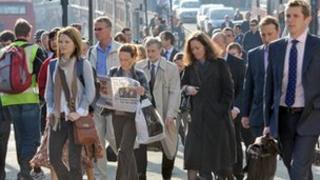 Many employers are providing remedial classes for school and college leavers, a major annual survey suggests.
A third of 542 firms surveyed for the Confederation of British Industry and Pearson were unhappy with youngsters' literacy and numeracy skills.
The figure is barely changed from a decade ago when the CBI said 34% were unhappy with youngsters' basic skills.
Two-thirds said school leavers lacked the self-management skills needed for work.
And four out of 10 of the firms surveyed said they provided remedial training for school and college leavers.
Despite rises in GCSEs and national assessment tests over the past decade, the report for the business organisation claimed there were structural issues within schools that needed addressing.
'Lacking initiative'
President of Pearson UK Rod Bristow said employers wanted to see an even sharper focus on the "three Rs".
He added: "Literacy and numeracy are the basic building blocks that help young people learn other subjects, get on in life and find rewarding work.
"But it's not just about literacy and numeracy. Even the best-performing nations say the number one issue in education is to equip school leavers with the broader skills needed for working life, and we are no exception.
"Employers still find that some young people lack the initiative, problem-solving and communication skills needed to succeed at work."
'Cutting edge'
CBI director general John Cridland said there was nothing more important to young people's lives and the future economic success of the country than education.
He said: "With the right start at school our young people can go on to have successful and fulfilling careers and have a strong base from which to learn more at college, university, or in the workplace.
"But levels of educational attainment are rising fast in many leading and emerging economies, so in the UK we must ensure that our education and skills system can continue to compete at the cutting edge."
Although one in five jobs requires graduate-level skills, rising to 70% in professional services, a third of employers expected to receive fewer applications from graduates.
This is because nearly two-thirds of employers expect tuition fee increases to change the market for graduate-level skills.
The Department for Education has yet to comment on the report.