Childcare: One in four providers 'make loss'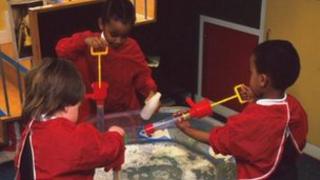 Almost a quarter of childcare providers are making a loss despite fees in England being among the highest in the world, a report has suggested.
In the poorest areas the proportion making a loss stands at 31%, according to a government survey.
The report also suggests 60% of child minders and about half those offering after-school and holiday care have frozen their fees during the recession.
Childcare charity the Daycare Trust said the findings were a "key concern."
The Childcare Provider Finances Survey for the Department for Education suggests that 11% of child care providers are just breaking even.
The researchers carried out more than 1,200 interviews with nursery managers and child minders to get a representative sample of private and voluntary child care providers across England.
The interviewees revealed that their biggest financial concerns for child minders were parents being unable to afford fees (21%) and not being able to fill enough places (22%).
Among larger childcare providers such as nurseries, 25% worried that there was not enough demand for places, 18% were concerned about the cost of employing staff and 17% that parents were unable to afford the fees.
Better-qualified staff
Staff costs accounted for more than three-quarters (77%) of expenditure for nursery operators.
The report notes that salaries of childcare professionals are gradually rising as the workforce becomes better qualified.
However the authors also say the sector is not well paid, with child minders earning an average of £7,600 a year and even the owners of for-profit nurseries drawing an average salary of just £13,500.
The report also notes that government regulations on staff-to-child ratios are one of the key drivers of childcare cost and suggests that "if these were to be relaxed, this may serve to reduce fees, assuming that any savings would actually be passed on to parents".
The authors say that most childcare providers currently have spare capacity which helps keep fees down, but say that demographic changes mean that there will be almost half a million more children under the age of 10 by 2020.
Kate Groucutt, deputy chief executive of the Daycare Trust, said her organisation "believes that in the short-term the best way to make childcare provision more affordable for low and middle income parents is to reverse the cuts to the childcare element of working tax credits".
She added: "Since the cut to tax credits, many families have lost an average £500 of childcare support per year, and 44,000 fewer families are receiving help with childcare costs. This is money that is no longer going into the childcare industry. "