Ofsted's one-day school inspection warning
By Sean Coughlan
BBC News education correspondent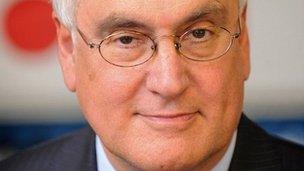 Education watchdog Ofsted is to introduce "almost no notice" inspections in England, calling head teachers the day before arriving.
This follows the retreat from the earlier proposal to have school inspections without any warning at all.
Ofsted will also implement plans to replace the grading of "satisfactory" with "requires improvement".
Chief inspector Sir Michael Wilshaw says inspectors will "return sooner" where schools need to improve.
Sir Michael is setting out changes to the inspection system to be introduced from September - after the consultation process launched in February.
The original proposal for inspectors to arrive unannounced proved highly controversial with head teachers.
But Education Secretary Michael Gove signalled at a head teachers' conference that such no-notice inspections would not go ahead.
The revised plan will mean "inspectors calling head teachers the afternoon before an inspection takes place".
Ofsted says this will give schools a day's notice to make "logistical arrangements including notifying parents and governors of the inspection".
The new arrangements will mean a tougher approach to how schools are described by inspectors.
The "satisfactory" grade will no longer be satisfactory - and instead is going to become "requires improvement".
Schools in this category will be re-inspected within two years - and if a school has not risen to "good" at a third inspection, it faces being deemed inadequate and placed in "special measures".
Ofsted says this means that schools in the "requires improvement" category will be expected to have reached "good" within four years.
"All schools and colleges can, and should, provide at least a good level of education," said Sir Michael.
"Parents and employers, children and learners, expect nothing less. That is why we are introducing these changes to the way we inspect."
Russell Hobby, leader of the National Association of Head Teachers, welcomed the shift on no-notice inspections, saying it "signifies a genuine attempt to work with schools on the best way to achieve those standards".
But the head of the NASUWT teachers' union, Chris Keates, attacked the changes as part of a wider "political denigration" of teachers.
"Parents and the public are entitled to expect an independent inspection system that holds schools properly to account to raise standards, free from government meddling and interference," she said.
National Union of Teachers leader Christine Blower accused the "supposedly independent body" Ofsted of "doing the work of the education secretary".
"This relentless onslaught on dedicated and committed teachers by Ofsted must stop. School leaders feel entirely ground down by Ofsted," she said.
Nansi Ellis, head of education policy at the ATL teachers' union, also rejected the proposals: "Ofsted is discredited in the eyes of many teachers and needs to even work harder to regain their trust."
A spokeswoman for the Department for Education said: "Ofsted's plan for inspections will set a clear benchmark so that head teachers and teachers recognise what it takes to be a high performing school as well as knowing what needs to be done where improvement is necessary."
Related Internet Links
The BBC is not responsible for the content of external sites.