Exam board criticised for Jewish prejudice question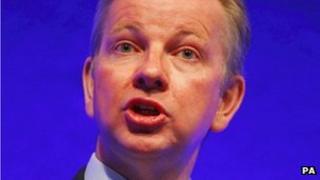 Ministers have criticised an exam board after one of its GCSE religious studies papers asked candidates to explain "why some people are prejudiced against Jews".
Education Secretary Michael Gove said to suggest anti-Semitism could ever be explained was "insensitive and, frankly, bizarre."
Exam board AQA said the question did not attempt to justify prejudice.
It stressed that it was not intended to cause offence.
But Mr Gove said: "AQA needs to explain how and why this question was included in an exam paper."
Exam regulator Ofqual is in discussions with AQA, one of Britain's biggest exam boards, and said it would take "follow-up action" if appropriate.
'Irrational fear'
First reported in the Jewish Chronicle, chief executive of the Board of Deputies of British Jews Jon Benjamin told the newspaper: "Clearly this is unacceptable and has nothing whatsoever to do with Jews or Judaism."
But an AQA spokesman said in a statement: "In many exam questions 'explain' is used to mean 'give an account of'.
"For example, in the past we have asked students to explain why some people commit crimes, but we have not intended to suggest that we condone criminal activity.
"The question concerned acknowledges that some people are prejudiced, but we did not intend to imply in any way that prejudice is justified."
It added that it would expect students to refer to the Holocaust and to illustrate prejudice "based on irrational fear, ignorance and scapegoating."
"The board is obviously concerned that this question may have caused offence, as this was absolutely not our intention."
It added: "The principal examiner for this exam has been reviewing the papers and has found that students have understood the question in the sense that was intended and that their answers are in line with the mark scheme."