Priority School Building Programme plans announced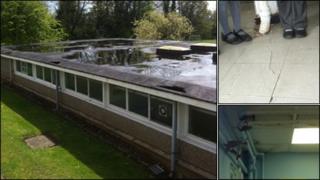 The government has announced 261 schools in England will receive money from a new school building fund.
A total of 587 applied for the cash from the Priority School Building Programme , aimed at rebuilding the most dilapidated schools.
The scheme replaces Labour's Building Schools for the Future (BSF) programme, which was controversially cancelled by Education Secretary Michael Gove.
Hundreds of schools with building plans were disappointed by that move.
The BSF programme had been expected to cost £55bn and was set up under Labour, which pledged to rebuild every secondary school in England.
The Priority School Building Programme has a £2bn budget for work to be done over five years.
Mr Gove had described the BSF programme as wasteful and over-bureaucratic.
After scrapping it, he set up a review of all school building plans which produced a report in April 2011.
Thursday's announcement had been delayed; schools had expected to hear last December whether their applications for rebuilding work under the new scheme had been successful.
'Value for money'
More than half of those which applied were unsuccessful, but the government says some will get work done through other maintenance funds.
In a written statement to the House of Commons, Mr Gove said 42 schools were being prioritised because they were in greatest need. These were those in the worst condition or special schools, he said.
"In tackling the challenges we face on school building, I have been determined to use the capital funding at my disposal to best effect, seeking value for money and efficiency from every pound spent," his statement said.
"I recognise that many of the schools that applied and have been unsuccessful will also have significant condition needs."
The areas getting the highest numbers of applications approved include Nottinghamshire with 15 projects and Kent with 14.
Birmingham had made 16 applications; six were approved. Sandwell had made 17 applications; three were approved.
Some areas have had just one project approved, while none of Bolton's five applications were successful.
The Department for Education says work on the 42 schools being prioritised will be paid for out of its capital spending budget, including efficiency savings from ongoing BSF projects.
The other projects are to be funded through Private Finance Initiatives under the £2bn Priority School Building Programme.
Work is due to start on the chosen projects in the next five years, but there is no guarantee that all schemes will be completed in that time.
Maggie Rafee, the head teacher of Alperton Community School in London, is one of those celebrating after getting approval for building plans.
"We are really excited here; we are absolutely delighted," she said.
'Left in limbo'
There was anger in Sandwell in the West Midlands. Council Leader Darren Cooper said: "This announcement is a slap in the face for thousands of pupils.
"It's a half-hearted botch job which will impact on young kids in a deprived area."
Labour's shadow education secretary, Stephen Twigg, said: "Schools and parents have for too long been kept in the dark. This delay exposes the incompetence that has marred the education secretary's handling of schools capital, since his scrapping of the BSF programme".
Earlier this month, the Local Government Association (LGA), which represents councils in England, said tens of thousands of children were being taught in crumbling buildings.
Councillor David Simmonds, from the LGA, said: "This funding...will go some way to addressing the problems facing some of our most dilapidated schools.
"But we are still in a situation where more than 300 run-down schools have been left in limbo after lengthy delays in government decision making."
The government says under its programme, repairs will be done more efficiently and faster than under the old BSF scheme.
A source close to Mr Gove said delays had occurred because every school which applied for funds had been visited to verify its needs, unlike in the case of BSF.