Diamond Jubilee comp helps East Enders learn about Queen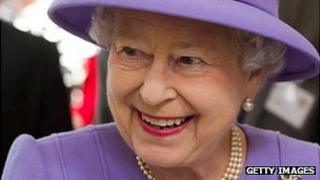 Primary school pupils in East London are having special lessons to learn about the Queen, because few grasp the significance of the Diamond Jubilee.
Concerned by pupils' lack of knowledge, one local vicar has launched a special art and poetry competition to encourage pupils to engage with the celebrations.
Rev Gordon Warren, Rector of St Anne's Limehouse in Tower Hamlets, said all five primaries in his parish took part.
More than 500 pupils produced a poem or picture about the Queen's reign.
The 523 entries are currently being judged, and pupils will find out in the coming days whether they are winners.
Special classes
Rev Warren said that when it came to the royal family, many pupils only knew about the Duke and Duchess of Cambridge (William and Kate).
"They know there is a Queen because they have seen her," he said.
"But we have had to run special classes about the Royal Family, what the Queen does and how long she has reigned."
Rev Warren said he saw the same problems 10 years ago during the Golden Jubilee when his wife was working in a local school.
Back then he said some pupils felt that the Queen was not relevant to them.
"Many of them are born to families with English as a second language and it was not a natural thing to think of our Queen as their Queen."
Vivian Onwubalili, head teacher of Stepney Greencoat Church of England school, said the children's knowledge of British history was poor.
"We realised they knew very little about the Royal Family. They knew about beautiful Kate and handsome William, but they did not know the link with the Queen."
Mrs Onwubalili said that as a result of Rev Warren's competition, the school would be running a special Diamond Jubilee day next week where children would learn about the history of the Royals.
Olympics
Rev Warren said the other problem for the Diamond Jubilee celebrations was that the focus in his parish was very much the Olympics.
"In this area we are swamped with Olympic advertising. The Diamond Jubilee is slipping slightly below the radar."
The five Limehouse schools taking part in the competition are Cyril Jackson, Stepney Greencoat CofE, Sir William Burrough, Stephen Hawking and Our Lady RC school.