Poor spelling of 'auto-correct generation' revealed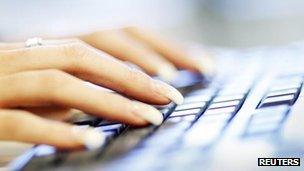 Spellcheckers and other technology have created an "auto-correct generation" unable to spell many common words, a survey suggests.
The poll of more than 2,000 adults for learning disability charity Mencap claims a third could not spell the word "definitely".
Some two-thirds picked a wrong spelling for "necessary".
And 96% said spelling was important, but two-thirds use spellcheckers all or most of the time.
Fewer than one in 10 (9%) said they never use a spellcheck.
The survey was commissioned to mark Mencap's Spellathon Championships which take place this week.
Mencap chief executive Mark Goldring said: "With over two-thirds of Britons now having to rely on spellcheck, we are heading towards an auto-correct generation.
"This survey has highlighted that many Britons have a false impression about their spelling ability.
"Today's tough economic climate means that poor spelling on a CV is fatal, as it says that an individual cannot produce work to a given standard, no matter how highly qualified they might be.
"Language used by a company or person is a reflection of their attitude, capabilities and skill."
Ian McNeilly, director of the National Association for the Teaching of English, said: "I think it's an easy, knee-jerk reaction - though an entirely understandable one - to blame technology for perceived declines in a whole variety of areas.
"This probably doesn't do justice to the subtleties at play.
"In saying that, if people are blindly writing things and expecting automated programs to address all of their inaccurate spellings, that's a concern - because they won't. It's the linguistic equivalent of indiscriminate sat nav users driving into canals."
Related Internet Links
The BBC is not responsible for the content of external sites.