Ofsted warns over early entry to maths GCSE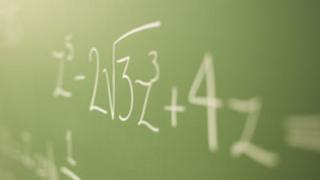 Too many schools are entering pupils for maths GCSE early, says Ofsted in a major report that is critical of the way the subject is taught and tested.
This is preventing too many able pupils from fulfilling their potential, says chief inspector Sir Michael Wilshaw.
And many who get off to a poor start never catch up, he warns.
The report also says maths exams have become less demanding and that teaching standards vary unacceptably.
In the report: Mathematics Made to Measure, Sir Michael warns that "the extensive use of early GCSE entry puts too much emphasis on attaining a grade C".
This is the benchmark grade used for schools' headline league table measures.
Early entries
But the quest for this grade "is at the expense of adequate understanding and mastery of mathematics needed to succeed at A level and beyond," he says.
The report claims there has been a vast increase in the number of pupils sitting GCSE early. With early entries rising from 5% in 2007 to 25% of all GCSEs in 2010.
And it warns the full extent of early entry to GCSE examinations is under-represented by these figures. Ofsted pledged to challenge such practices where it uncovered them.
Schools might use early entry to get some bright pupils' GCSE exams out of the way, or to give greater focus to pupils they may feel are at risk of drifting out of education or being switched off.
The report adds that some schools are even entering pupils into GCSEs by two different exam boards "exploiting the flexibility of exam arrangements" in the hope that they might get a C in one of them.
The report says thousands of pupils who had reached Level 5 by the end of primary school - the standard expected of a 13-year-old - still did not go on to gain any better than a grade C at GCSE.
'Never catch up'
Sir Michael adds: "Our failure to stretch some of our most able pupils threatens the future supply of well-qualified mathematicians, scientists and engineers."
But he is also concerned about how well the least able are taught.
"Too many pupils who have a poor start or fall behind early in their mathematics education never catch up," he says.
"The 10% who do not reach the expected standard at age seven doubles to 20% by age 11, and nearly doubles again by 16.
"Schools must focus on equipping all pupils, particularly those who fall behind or who find mathematics difficult, with the essential knowledge and skills they need to succeed in the next stage of their mathematics education."
Inspectors visited 160 primary and 160 secondary schools and observed more than 470 primary and 1,200 secondary mathematics lessons between January 2008 and July 2011.
'Ambitious'
They judged that more than half the schools were outstanding or good in maths.
Schools Minister Nick Gibb said given the importance of maths for the economy and for the individual student, he would be asking schools to be even more ambitious when it comes to maths attainment at every stage of a child's education.
"It is vital that we reverse the decline that has seen us fall from 8th to 27th in maths internationally. This is what drives our commitment to reform our curriculum and qualifications to world class standards.
"We are also attracting the brightest maths graduates into teaching with the highest ever bursaries."
Last year, the Advisory Committee on Mathematics Education raised concerns about the number of schools using early and repeated entry to GCSE examinations.
"We are delighted that the Ofsted report has indicated that school inspections will challenge these practices," it said in a statement.
But National Union of Teachers general secretary Christine Blower said: "The report stresses the fact that schools need time for long-term improvement in maths to occur, yet many schools feel under pressure to improve grades rapidly.
"What they do not go onto say is that this pressure comes directly from Ofsted."
Shadow Education Secretary Stephen Twigg said the report highlighted the variation in maths teaching even within schools.
"There is clearly a need to look at training and ongoing professional development for maths teachers."
Sue Southwood, programme manager with the National Institute of Adult Continuing Education, said: "Much more needs to be done to tackle the challenge of adult numeracy and to prevent the negative attitudes to maths, which so often come from a lack of confidence in maths, being passed down through the generations."