Overhaul of GCSE results could mean fewer grades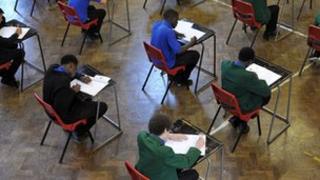 GCSE results could be overhauled with a cut in the number of grades available suggests the exams regulator for England, Ofqual.
GCSE grades range from A* to G but a new report from the regulator questions whether this will remain the best structure in future.
The government wants a new National Curriculum with new GCSEs by 2015.
An Ofqual spokesman said the curriculum review was a timely opportunity to ask if the grading system met its purpose.
Ofqual's new corporate plan which sets out its aims for the next three years states: "Before we implement new GCSEs to match the new National Curriculum, we will review the way in which GCSE results are reported ...
"The grading structure stretches from A* to G and it is time to look now at whether this is how it should be."
Prof Dylan William of University of London's Institute of Education said reducing the number of grades would be a mistake.
"What would be more appropriate to have is a percentage score with a measurement error," he said.
For example, he suggested, a candidate might score 60% plus or minus 15% for marking errors.
"The problem is, we are not honest about the inaccuracy of assessment," he added.
Prof William said the wide range of GCSE grades was a throw-back to the days of the two tier O' Level and CSE exam system.
GCSEs 'irrelevant'
The two grade systems overlapped with a top CSE grade being equivalent to a C grade at O'level.
Professor William also predicted that GCSEs would become increasingly irrelevant as more pupils remained in education until 19.
Sue Kirkham of the Association of School and College Leaders said the number of grades should depend on who the exams are aimed at: "If it's for the whole cohort, then you need a wide range.
"If you want to have different qualifications for different groups of people you don't need so many grades."
Ms Kirkham added that reform of GCSEs should be the subject of a major consultation involving teachers, pupils and employers.