Delay school entry until six, researchers urge
By Katherine Sellgren
BBC News education reporter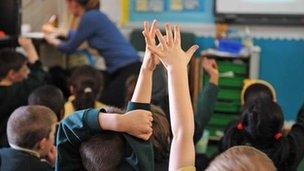 Schooling in England should not start until the age of six because having formal lessons too early can put bright children off learning, research claims.
Formal lessons should be delayed at least a year, says Dr Richard House, of the Research Centre for Therapeutic Education at Roehampton University.
Dr House is calling on the government to slow down the "premature adultification" of children.
But the government says each additional month of education is of benefit.
Children in England are expected to be in school by the age of five, earlier than most of their European peers.
However, many start in nursery or reception classes at age three or four.
They are taught using the Early Years Foundation Stage (EYFS) compulsory curriculum - a revised version of which will be used from the autumn.
Presenting his research at the Westminster Education Forum on Wednesday, Dr House said too early an emphasis on reading, writing and maths could lead to weaker academic performance in the long term - and even poorer health.
"There are of course some children from very deprived backgrounds who on balance would, and certainly do, gain a net benefit from early interventions.
"But the evidence is now quite overwhelming that such an early introduction to institutional learning is not only quite unnecessary for the vast majority of children, but can actually cause major developmental harm, and at worst a shortened life-span."
Dr House cited research from the United States which tracked gifted pupils.
The study found those children benefiting from being allowed to develop at their natural pace.
"Young children's "runaway" intellect actually needs to be slowed down in the early years if they are not to risk growing up in an intellectually unbalanced way, with possible life-long negative health effects," said Dr House.
But a spokeswoman for the Department for Education said: "It is vital that all children get a thorough grounding in the basics from an early age - the three Rs form the bedrock of education.
"There is a wealth of international evidence which shows how much each additional month of education benefits a child's development and achievement by age 11.
"The new early-years foundation stage, starting this September, focuses on getting all children ready for education at age five and increasing their attainment."
Dr House added: "More anecdotally, I am myself a living example of the virtues of 'later is better'.
"Coming from a working-class background, I was allowed to repeat my first year at primary school when I first started school in 1958, as I was very young in the class - and I went on to obtain a first-class degree at Oxford University and a PhD.
"I doubt this would have happened if the system hadn't had the flexibility in 1959 to allow me to repeat my first year at primary school - and from the evidence, I would also have been more likely to have had life-long negative health effects and, quite possibly, an earlier death too."
Related Internet Links
The BBC is not responsible for the content of external sites.