Rise in tuition fees 'did not boost teaching time'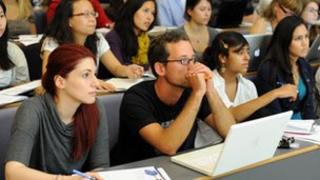 Students have had no extra teaching time at England's universities since tuition fees trebled, researchers say.
The Higher Education Policy Institute study of 9,000 students found no change in their experiences since fees rose from £1,000 to £3,000 in 2006.
It comes as universities are about to treble fees again to a £9,000 maximum.
Universities UK said the extra money had gone on improving libraries, IT facilities and other aspects of student life as well as improving teaching.
Timetabled classes
The institute found that in 2012, the seventh year of higher fees, students reported an average of about 14 hours scheduled teaching per week - almost the same as it was in 2007.
But this is as low as seven hours a week in some disciplines.
The report said this was not surprising as there were different approaches to teaching in different subjects.
But the findings suggested those with fewer timetabled classes a week were more likely to be unhappy with the amount of teaching time they received.
The report said nearly 45% of those with fewer than eight contact hours per week were dissatisfied with this, and that dissatisfaction reduced steadily in line with increasing amounts of contact.
Report author Bahram Bekhradnia said universities needed to explain to students why, for example, they considered three hours contact time to be sufficient. But that case had not been made, he said.‬
While students claimed they were studying about 27 hours a week, there were differences in the amount of effort needed for different subjects, he said.
"In some subjects, for example medicine and dentistry, study is the equivalent of a full time job. In others it resembles part-time employment."
Mr Bekhradnia added: "A medical student is studying for 37 hours a week on average and a media studies student is studying for an average of 20 hours a week. They all get a degree at the end of it, but it does raise important policy questions."‬
The report concludes that there has been no change in the "provision made for students" as a results of fees trebling.
Mr Bekhradnia said there were messages for the coming higher fees environment, when student fee income will begin to replace much of the teaching grant.
"Universities are in a very different position now," he said.
‪"Students are coming in with greater demands and they will find it very difficult to meet these demands because most are not going to get any more money than they have at present. For most it looks very much like a lose, lose situation."‬
'Better teaching'
But universities minister David Willetts said: "For the first time, thanks to our reforms, power will be in the hands of students.
"This will drive universities to offer the highest quality academic experience and make clear what students can expect from their course, including the contact and support they will receive."
A spokesman for Universities UK said universities had used their additional income to improve a number of aspects on offer to students.
"After two decades of underfunded expansion, students now have access to better libraries and IT facilities, better teaching and more teaching staff, in addition to improved student support structures and communal spaces on campus.
"Fees have also resulted in more targeted bursaries and scholarships to support students."
She added that universities offered more information to students about course structure and contact hours to help them understand and compare different universities and courses.
But National Union of Students president Liam Burns said: "Whether we like it or not students going on to campuses this year will feel like they're paying more and will have increased expectations to match, but there is no evidence that shifting the financial burden to students gives them more power.
"Successive governments have forced students to act as consumers of teaching rather than partners in learning and there is no evidence that this has improved universities."