Facebook: Parents 'help children break age limits'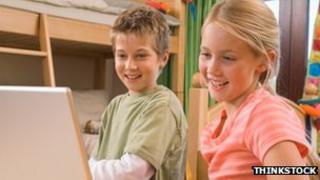 Parents are helping their children to set up under-age profiles on social networking site Facebook, Children's Minister Tim Loughton has said.
This meant that children were getting involved in social media at too young an age, he suggested.
He added that parents had a responsibility to monitor youngsters' online activity.
The comments came in a debate on "sexting" - youngsters sending explicit pictures to each other.
Mr Loughton, who has three teenage children, said parents had a responsibility to monitor youngsters online, adding: "Having a Facebook page, you should be at least 13 to do that. That is not legally enforceable.
"We know, and I know from personal experience, the temptations for younger children to set up a Facebook site and get involved with those social media.
"And I also know that in too many cases they do that aided and abetted by parents. So it's not just a question of giving information to parents, it's making sure parents are acting responsibly on behalf of their children too."
When individuals set up Facebook accounts, they are asked to certify that they are 13 or over by entering a date of birth. If the date of birth shows them to be younger they are prevented from continuing.
A Facebook spokeswoman said it set the age limit for setting up accounts to comply with international regulations on children accessing social media.
It also said it applied more stringent protections and security settings for its younger users aged between 13 and 17.
'Risk'
This involves limiting who can see what teenagers post on their accounts to people in their social networks - Facebook friends, friends of friends, and people they have a prior connection with.
"We maintain added protections and security settings for teens (age 13-17) that ensure their timelines and posts don't show up in public search results," Facebook says on its website.
Mr Loughton's comments came as a Labour MP Ann Coffey urged the government and mobile phone companies to do more to combat "sexting" during a Westminster Hall debate.
The Stockport MP said youngsters who sent explicit images to their boyfriends and girlfriends risked having those pictures shown around playgrounds.
She said: "Once taken and sent, the sender loses control of these images and they could end up anywhere from being passed all around school to being viewed and passed on by paedophiles."
'No silver bullet'
She also claimed pornographic pictures willingly uploaded to the internet could be shared with the world without the subject's consent, a practice known as "doxing".
She added: "A key problem is that young people see the texts as harmless fun but they quickly lead to sexualised conversations and grooming.
"Because it is not face-to-face interaction, young people will also behave in a different way without realising the risks they are exposing themselves to until it is too late."
She called on mobile phone firms to pay for advertising campaigns warnings youngsters about the dangers of sexting, and demanded more training for shop workers selling handsets.
Mr Loughton said there was "no silver bullet" to combat the problem, but added: "The concept of peer-to-peer sexting is now really raising its head and can have far-reaching consequences. That needs to be addressed."
He said the government took "very seriously our responsibility to ensure the response in all areas of child protection and safeguarding is as effective as possible".